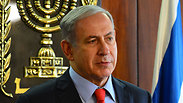 Israeli Prime Minister Benjamin Netanyahu
Israeli Prime Minister Benjamin Netanyahu will visit Russia next week for talks with President Vladimir Putin on Russia's expanding military deployment in Syria, an Israeli official said on Wednesday.

"The prime minister will present the threats to Israel emanating from the increased flow of advanced weaponry to the Syrian arena and from the transfer of lethal weaponry to Hezbollah and other terrorist groups," the official said.

Meanwhile, France's defense minister, Jean-Yves Le Drian, says French fighter jets will start bombing Islamic State group targets in Syria in the coming weeks, despite growing doubts over whether the US-led air campaign against extremists in the region is working.

Le Drian said on France-Inter radio Wednesday that the French strikes would go forward "as soon as we have well-identified targets."

"Today ISIS has progressed to such an extent that it threatens both the Free Syrian Army and the Syrian resistance in the Aleppo region, but also Lebanon, which is behind the Damascus-Homs axis , if ISIS happens to break this line," noted Le Drian.

Russia's recent military buildup in Syria has perplexed the Obama administration and left it in a quandary as to how to respond, complicating Washington's efforts to both combat Islamic State extremists and assist moderate rebels trying to oust Syrian President Bashar Assad.

Underscoring US uncertainty about Russian President Vladimir Putin's intentions, Secretary of State John Kerry on Tuesday placed his third phone call in 10 days to Russian Foreign Minister Sergey Lavrov, seeking clarity about Moscow's moves, the State Department said.

"Kerry made clear that Russia's continued support for President Assad risks exacerbating and extending the conflict, and undermining our shared goal of fighting extremism if we do not also remain focused on finding a solution to the conflict in Syria via a genuine political transition," the department said in a statement.

Last week, President Barack Obama said Putin's strategy is "doomed to fail" and the White House reinforced that message on Tuesday.