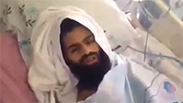 Mohammed Allaan, the Palestinian administrative detainee who embarked on a 65 day hunger strike was arrested soon after his release from Ashkelon's Barzilai hospital Wednesday morning.

The state prosecutor had sought a new warrant for his arrest, and Allan was transferred to the Israel prison authority.

Allaan was originally under administrative detention, which was only revoked when doctors had warned of irreversible damage to his organs. Allan was initially treated in Beer Sheva's Soroka hospital; however the hospital staffs' refusal to force feed him led to his transfer to Ashkelon. The IDF feared that his death would spark a wave of violence, and deployed Iron Dome batteries in southern Israel. After the High Court decision to cancel his detention order, Allaan began receiving nutrients and food in order to make up for critical deficiencies caused as a result of the 65 day hunger strike.

Security officials had previously stated that Allaan would be released if permanent brain damage occurred as a result of the hunger strike, but a series of interviews proved he was speaking coherently.

The police said in response, "During the morning hours officers, from the Ashkelon station enforced an administrative detention order, and arrested Mohammed Allan inside Barzilai hospital. After the arrest, Allaan was handed off to the Prison services care.