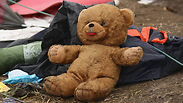 A teddy bear, left behind. (Photo: Getty Images)
As migrants and refugees from the Mideast continue to stream into and across Europe by the thousands every day, and countries debate how to handle the crisis, individual stories inevitably get swallowed up into the chaos.
The following gallery of photographs by Christopher Furlong documents objects left behind by these people on their arduous journey, providing a tiny glimpse of their humanity beyond images of huge crowds.