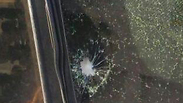 Damage from stone throwing
The legal system has not backed mandatory minimum sentences for stone-throwers, but Attorney General Yehuda Weinstein will likely not oppose Prime Minister Benjamin Netanyahu's initiative.

Weinstein is also not predicted to oppose the use of Ruger rifles against stone-throwers under certain circumstances in Jerusalem. (This is already permitted in the West Bank.)


In 2012, a law was passed that provided judges with a range of suitable punishments. Minimum sentences formally exist only for cases of sexual offenses against minors and aggravated assault of a police officer.

The attorney general on Wednesday approved use of live fire in Jerusalem. He was also said to be considering other changes to the rules of engagement.

Every discussion in the Prime Minister's Office about the issue noted that the state attorney had issued an order to issue significantly harsher punishments to stone-throwers, including indefinite detainment until the end of legal proceedings for apprehended stone-throwers. The order also permits harsher punishments, including more than ten years in prison.

On Thursday morning, the Jerusalem district attorney issued indictments against a 19-year old resident of Issawiya and three minors for throwing stones and Molotov cocktails. According to the indictment, the minors – aged 13-15 – threw stones at police officers at the entrance to the Temple Mount in two incidents in August and September 2015.

An additional indictment was issued on Thursday against another 19-year-old from Issawiya for throwing a Molotov cocktail at police and cars.

Netanyahu on Wednesday visited the site where Alexander Levlovich died this week after his car was pelted with stones. "We will massively increase fines for minor and their families in order to create deterrence there as well," said the prime minister. "We are changing the policy to a war against those who throw stones and Molotov cocktails."