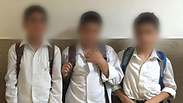 The boys detained for throwing rocks
Four children aged 10-11 were arrested on Sunday after throwing rocks at an Egged bus on Sultan Suleiman St. in Jerusalem. The boys, all residents of the A-Tur neighborhood of Jerusalem, had apparently just finished their school day and immediately hurried to the spot.
Meanwhile, a video has emerged showing an Israeli car being pelted with stones. "Dad, get us out of here," a young girl screams.
As rock and firebomb attacks increase and a legal showdown about their treatment drags on, rock attacks have become more and more typical: Jerusalem police have said that time and again they run into minors under the age of criminal responsibility (12) who throw stones at Jews.
Rock attack
The law clearly doesn't allow for the filing of criminal charges against them, and as such, police typically search for their parents and release them into their custody.
The arrest of the four children on Sunday took place in the afternoon hours, and no damage or injuries were reported as a result of the incident.
Concurrently, rocks were thrown at border police on Sunday afternoon in A-Tur. The rock thrower, a 10-year-old Arab boy, was identified and captured. The police then searched for his parents and reported the incident to the relevant social services.