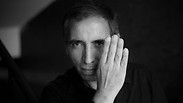 Iranian film director Mohsen Makhmalbaf is to be chairman of the jury at the 31st Haifa Film Festival, which begins on September 26 and will continue until October 5.
Makhmalbaf is a master of the Iranian New Wave movement, which includes internationally-acclaimed directors such as Abbas Kiarostami and Asghar Farhadi. He visited Israel two years ago as a guest of the Jerusalem Film Festival.
Trailer for 'The President,' Makhmalbaf's latest film
The director, who is also a writer and human rights activist, was born in Tehran and paid a heavy personal price for trying to push back at official restrictions – ultimately leaving the country in 2005, shortly after the election of Mahmoud Ahmadinejad. He has directed 30 narrative, documentary, and short films, and has published more than 20 books.
This year's festival has scheduled a number of Makhmalbaf films in honor of his visit, including his latest, "The President", as well as some of his most memorable works, such as "A Moment of Innocence"; "The Cyclist", unavailable in the West until a copy was recently found; "The Gardener", filmed entirely in the Baha'i gardens in Haifa; "Daddy's School", a documentary about the Makhmalbaf family; and his new short film "Tenant".
Other guests confirmed to attend include Claude Lanzmann, Peter Greenaway, Wayne Blair, Luca Guadagnino, Sergio Castelitto, and writer Margaret Mazzantini (who is married to Castelitto).
The festival is to open with a ceremony at which Lanzmann, 90 years old this year, is to receive a lifetime achievement award. As part of a tribute to Lanzmann and to mark 70 years since the liberation of Nazi concentration camps, a new digital copy of his monumental work "Shoah" is to be screened.
British director Peter Greenaway ("The Pillow Book", "The Draughtsman's Contract", "The Cook, the Thief, His Wife & Her Lover"), is set to introduce his new film, "Eisenstein in Guanajuato", a lavish tribute to legendary Soviet director Sergei Eisenstein ("October", "Battleship Potemkin").
Among the many events scheduled for the festival are new projects like one promoting creative collaboration between Arab and Jews.