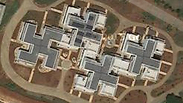 Swastika-shaped Italian villas
Photo: Google Maps
In the quiet Brindisi province on the heel of Italy's boot, bureaucratic and racist turmoil has recently broken out – from the sky.

After years of the inhabitants of the villages of Specchiolla and Pantanagianni having lived peacefully, last week they looked at satellite photographs on Google Maps and were amazed to discover that a cluster of villas between the two villages were designed in the shape of a swastika.

The images aroused great anger, especially among left-wing activists, and sparked demands for an investigation and explanations.

Preliminary investigation revealed that the houses were built not too long ago, in the 1990s, ruling out the possibility they had been constructed at the time of the fascists.

It is still not clear who was responsible for their construction, nor if their designer will be discovered, to determine whether it was done intentionally. It is estimated that it will be difficult to prosecute him. Destroying the villas is not on the agenda either.