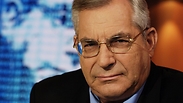 Moti Kirschenbaum
Photo: Yossi Tzveker
Israeli television personality Moti Kirschenbaum passed away Friday morning, just one day after celebrating his 76th birthday, when he collapsed at his home in the town of Mikhmoret, just north of Netanya.

Kirschenbaum's partner called an ambulance after she found him sitting in the kitchen, unconscious. A team from Magen David Adom arrived at the residence and attempted to resuscitate Kirschenbaum, but after an hour of unsuccessful effort, the paramedics declared the historical figure deceased.

Kirschenbaum is survived by four children and his partner of two years, Hani. His wife, Yona, died of cancer nine years ago.

His death comes after a long career in radio, television and film, including his most well known project in recent years, London et Kirschenbaum, a show he co-hosted with Yaron London.

The cultural figure head was born in Kfar Saba in 1939 and eventually moved to Los Angeles to learn film. From his new home, Kirschenbaum covered the Hollywood beat for Yedioth Ahronoth.

Considered one of the founders of Israeli television, Kirschenbaum played key roles in several ground-breaking projects before being awarded the Israel Prize in 1976.

He was additionally selected this year to serve as director of Israeli television programming.

In the 80s, Kirschenbaum worked as an independent producer before returning to the broadcasting authority in 1993 - this time as director general.

After his four-year term in the broadcasting authority, Kirschenbaum returned to producing and even filmed a well-known nature documentary filmed in Africa.

Kirschenbaum's last public appearance was last Monday at the Ophir Awards in Ashdod where he was invited to present one of the prizes.

Ran Boker and Raanan Ben Tsur contributed to this report.