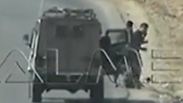 A screengrab from the video
IDF soldiers were caught on film apparently breaking a camera and attacking photo journalists during clashes in the West Bank village of Bet Furik on Friday.

The clashes took place in the village, which is just east of Nablus, after the funeral of Ahmad Khatatbeh, a Palestinian who died after being shot by troops during an attempted attack on IDF checkpoint last week.

Palestinian youths took to the streets after the funeral and began clashing with IDF troops in the village.

During the clashes, the soldiers were filmed pushing back two photographers from the French news agency AFP, who were standing alongside them. One of the soldiers is seen picking up the photographer's camera from the ground and smashing it on the road, the soldier then tosses the camera off to the side.

Another soldier is later seen running up to one of the two photographers who were pushed back, seemingly threatening him, while another soldier tosses another piece of the photographers' camera equipment (apparently a tripod.)

The soldiers do not let the photographers go, and after about a minute one of them is seen getting out of their jeep, approaching the photographer, and grabbing a camera out of his hands before smashing it on the ground twice. The same soldier seemingly tries to grab the camera from the photographer once again a short while later, but he seems to be stopped by the other soldiers on the scene.

It's not yet clear what caused the soldiers to act the way they did towards the photographers, but the photographers were not arrested, which seems to rule out any criminal offences.

The incident

The two photographers who were attacked are Andrea Bernardi, an Italian photographer working for the French agency, and Abbas Momani, AFP's photographer in the West Bank. AFP's Israel and Palestinian territory office Manager Thomas Cooks said, "They passed the first border police checkpoint at the entrance to the village with no problems, after showing their press credentials."

"When they stopped to adjust their equipment, a soldier came up to them and instructed them to stop filming. He later took the camera away and smashed it." According to Cooks, additional equipment was taken, including batteries and memory cards, which were in the photographer's pockets.

The video shows the soldiers attacking the photographer once again when he returns to pick up the equipment. The soldiers are seen throwing him to the ground, later returning to their jeep and leaving the scene.

The IDF Spokesperson said in response: "The highest levels of command are aware of the incident. An initial inquiry shows that the force did not act as is expected, in contrast to existing standards, and as such Disciplinary measures will be taken."