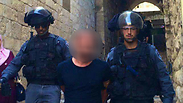 Police on the Temple Mount. (Photo: Archive)
Israeli police and border patrol troops employed riot control measures on the Temple Mount Sunday morning where masked Palestinian youth threw rocks and shot firecrackers at security forces just ahead of the holiday of Sukkot.

The Palestinians barricaded a door in the al-Aqsa Mosque and used umbrellas to defend themselves against police.

Temple Mount violence (צילום: qpress)

Sunday's violence on the Temple Mount was likely fueled by reports Saturday that right-wing Jewish groups planned to lead large groups in prayer on Sunday at one of the entrances to the Temple Mount before trying to enter the compound.

Police announced Saturday that there would be no age restrictions on Palestinian visitors to the Temple Mount on Sunday, the last day of Eid al-Adha, a Muslim holiday celebrated worldwide. The complex is closed to Jewish visitors.

Meanwhile, the IDF and Israel police arrested seven wanted individuals in the area of Hebron overnight.

Five of those arrested are suspected of terrorist activities and disturbance of the peace against civilians and security forces.