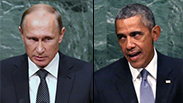 Putin and Obama trade barbs
The US and Russia seem to be on a collision course regarding the continued presidency of Syrian ruler Bashar al-Assad. US President Barack Obama gave a speech on Monday at the 70th UN General Assembly meeting in New York, sending Russia a clear message – the Assad regime must be replaced.

The US president strongly attacked the Syrian regime, saying that after the bloodshed that has occurred, the status quo cannot be resumed. Obama denounced Assad's brutality, reminding the Assembly that the war in Syria started because Assad responded to peaceful protests with intensified repression and killing. He said that the chaos must be stopped so that Syria can be rebuilt.

He further stated that when a tyrant murders thousands of his own people, it affects the whole world, similarly to how when a terrorist group beheads innocent people and enslaves women, it affects the world. Obama said that there is no reason to show tolerance toward ISIL, and that the UN is willing to work with any nation, including Russia and Iran, in order to solve the Syrian crisis.

Obama speaking at the UN (צילום: רויטרס)

Obama and Putin's disparate views of the grim situation in Syria left little indication of how the two countries might work together to end a conflict that has killed more than 250,000 people and resulted in a flood of refugees.

Despite Obama's staunch opposition to Assad remaining in power, the US has struggled to energize a political process to push him from power. Russia has long been a major obstacle, shielding Assad from U.N. sanctions and continuing to provide the Syrian government with weapons.

About an hour after Obama's speech, Russian President Vladimir Putin gave a speech of his own on the UN stage, claiming that it would be a serious mistake no to cooperate with Syria's government in combating terrorism. According to Putin, no one but Assad is fighting against Muslim extremism.

Putin said that his country's standing beside Assad had nothing to do with Russian ambitions, but was about the current state of the world. He stated that based on international law, the world's nations must unite their forces and create an anti-war coalition. Putin said that like the coalition that fought Hitler, this one could unite different forces.

Putin speaking at the UN (צילום: רויטרס)

Putin commented on the Syrian refugee crisis, saying that if Russia's proposal that all anti- ISIL forces coordinate their efforts under the UN mandate was accepted, there would be no need for new refugee camps. Hundreds of thousands have had to abandon their homes, said Putin, and that's a tough lesson for all, including Europe.

Putin emphasized that refugees are in desperate need of help, but that the Syrian state must be revived. In other words, he said, anything done under the norms of international law must be given support.

Obama and Putin are expected to meet in the next few days, for the first time in a year.

Iranian President Hassan Rouhani said in his speech that Tehran was ready to help bring democracy to war-torn Syria and Yemen and blamed the spread of terrorism in the Middle East on the United States.

"We are prepared to assist in the eradication of terrorism and in paving the way for democracy," Rouhani said in a speech to the United Nations General Assembly. "As we aided the establishment of democracy in Iraq and Afghanistan, we are prepared to help bring about democracy in Syria and also Yemen."

He blamed the crisis in the Middle East on the United States' occupation of Afghanistan and Iraq as well as Washington's support for Israel against Palestine.

French President Francois Holland and Egyptian President Abdel Fattah el-Sisi are expected to give speeches later in the day. In his speech opening the General Assembly meeting, UN General Secretary Ban Ki-moon called for the world's nations to help resolve the Israeli-Palestinian conflict, and to pressure the two sides to resume negotiations.

French President Francois Hollande said earlier on Monday that he would work with Russia and Iran to end the conflict in Syria, but echoed Obama's senitment that Tehran and Moscow needed to realize that Syrian President Bashar al-Assad could not be part of a political transition.

"Russia, Iran say they want to be more involved in a political solution. We need work with these countries, tell them that solution, transition must happen, but without Bashar al-Assad," Hollande told reporters.

Reuters contributed to this article.