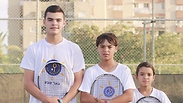 Karin, Samar and Shadi al-Touri
Photo: Dana Kopel
We meet nine-year-old Karin, 12-year-old Samar and 15-year-old Shadi al-Touri at the Yad Eliyahu Tennis Center in Tel Aviv. Watching them train, it's hard to determine just how aware they are of the expectations placed in them.

And it doesn't just have to do with the fact that they are such young and talented players, who must not disappoint their surroundings and have to meet their coaches' high demands at the same time. In addition, they are also Bedouin. Bedouin tennis players, the only ones in Israel who come from the Bedouin sector and represent it on the really high levels.

Peer's Return

Israel's leading female tennis player has had a rough few years, but Shahar Peer is determined to get back on form.

Yishai Oliel, it turns out, is not alone. There are others who want to be the tennis players of the next generation just like him, and dismiss the talk that there is no future generation here.

Karin is not even 10 yet, but based on her large collection of trophies, one can definitely let the imagination run wild and imagine her as the next Shahar Peer. Samar and Shadi are among the top 30 players in Israel in their age category (Shadi is 34th in the 16-year-old category and Samar is 15th among 12-year-olds). The latter even reached the final of the doubles tournament in the latest Israel Championship and says "it was the best competition I ever had."

"It all started because of me," Shadi admits. "We wake up early every day, live in Rahat and train every day till 8-9pm. Only then we return home. The little ones have to combine their studies with the tennis. They go to sleep late and get up early, and the burden is slightly hard on them."

How hard is it really?

"When there are competitions in Israel, they are during the Jewish holidays, and we don't have that time off because we study in an Arab school, so I miss a lot of school. On the one hand, people tell me: 'You're lucky, you don't come to school.' On the other hand, I have to make up a lot of material. But everyone supports us, even the school teacher.

"I flew this year and last year to the United States for exhibition games to represent the tennis centers and raise funds," continues Shadi. "I received a lot of support for it and was allowed to do everything in order to succeed. Our father invests in us a lot too, and we thank him for that. He is doing everything for us to succeed."

Samar adds, "In school they ask me every morning, 'Why are you late?' And I tell them that I practice every day."
Big dreams
They train at the Be'er Sheva tennis center with the former coach of professional Israeli tennis player Dudi Sela, Yoav Shab. When I ask them if they are aware of the interest in them, they don't hesitate to say, with a lot of modesty, that they have a sense of purpose.

"Being an Arab Bedouin and playing at this level says something," Shadi replies. "We are always with Jews, we live with them, and on the other hand we represent our city and the Bedouin sector. It's fun doing it. It gives us confidence and a push, knowing that I have the opportunity to be 'the first that…' It makes me positive."

When did you realize you can go far?

"There was a regional competition which was very difficult for me because the 10 best players in Israel participated," says Samar. "In the end, I managed to reach the final and win the tournament. I played really well. After that competition, I began playing even better.

"Once I also met Dudi Sela, when he arrived at the Be'er Sheva tennis center with Andy Ram. I spoke to him and he said to me, 'You're really good.' We also played doubles together."

What is your dream?

"My goal is to be the Bedouin player ranked among the top 20 players in the world," says Samar.

"I am thinking about college at the age of 18," says Shadi, "and then I want to see how I can give myself this push in the world. In general, we want to succeed and do something in tennis and we support each other. We ask each other about the results in the competitions and about the trainings."

Who is your role model?

"Roger Federer," says Samar, "because he brings both the tennis side and the mental side."

"I'm with Federer too," says Shadi. "He plays in the most classic and simple way in the world. It's fun seeing him. I also think that tennis is just a matter of mentality and you have to work on it a lot. It's something which can make you or break you. It doesn't matter how much you invest in tennis, if you don't have a strong mind you won't succeed."

Karin, who looks at the two of them admiringly throughout the interview, provides an original answer: "Simona Halep. I want to reach every ball and be as flexible as she is."