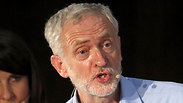 The recently elected head of Britain's Labour Party, Israel critic Jeremy Corbyn, was on Tuesday heckled by an Israel supporter after a speech to the Labour Friends of Israel.

Corbyn spoke at the meeting for about 10 minutes. According to the Daily Telegraph, at the end of his speech and the applause, someone in the crowd began to yell at Corbyn: "Say the word Israel! Say the word Israel!"

Labour Leader Jeremy Corbin being heckled

The crowd asked the person to stop screaming and Corbyn looked stunned at what had just occurred. Security guards took to the stage, fearing the possibility that someone may try to rush towards the Labour leader.

Corbyn, 66, is a strong supporter of the Palestinians, and in the past met with members of terrorist organizations such as Hezbollah and Hamas, once referring to them as "our friends".

In an interview with Iranian television, Corbyn said that the targeted killing of Osama bin Laden who could cause further unrest. In a clip that was broadcast on the Iranian channel PRESS TV Corbin complained that he did not beliieve there had been an attempt to arrest bin Laden and bring him to justice rather than eliminate him immediately. "It was an assassination attempt, and this is another tragedy upon a tragedy upon a tragedy," said Corbyn. "Can we not learn a lesson from what happened?"

After Corbyn's election as Labour leader, British Prime Minister David Cameron called Corbin "a danger to the United Kingdom's national security of the United Kingdom" and said that he represents a danger to Israel.