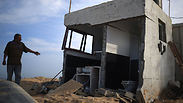 Israel's latest strike in Gaza in response to rocket fire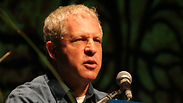 Major-General (res.) Giora Eiland
Photo: Ofer Amram
The four rocket attacks on Israel from Gaza in the past month have created, and rightfully so, a difficult feeling among the residents of southern Israel. It joins the feeling that the deterrence, which was achieved only a year ago at such a heavy cost, is about to fade away. Is that really the case?

Well, the deterrence has actually remained effective. What is missing is the complementary move. About a year ago, at the end of Operation Protective Edge, everyone agreed that an international committee would convene within a month to deal with the Strip's economic reconstruction. It was also decided that Egypt would chair the committee, and that the funds for the Strip's reconstruction would be handed over to the Palestinian Authority.

Different Strategy

Analysis: While Hamas is in a state of war with Israel, its battle against other organizations in Gaza which reject its authority serves Israel's security needs.

Thirteen months have passed, and there is no sign of such a committee ever taking place. The reason is simple: Neither Egypt nor the Palestinian Authority, which were given the leading role, are actually interested in the Strip's reconstruction. Moreover, these two players are indifferent to the possibility that the violent conflict between Israel and the Gaza Strip will be resumed.

On the other hand, there is an odd meeting of interests between Israel and the Hamas leadership. Israel only has a security interest in Gaza. We have no territorial, economic or political interest. There are only two things we care about - a long-term state of calm and reducing Hamas' ability to arm itself.

Hamas, on its part, has two leading interests at this stage: One, getting international legitimacy for its rule in Gaza; two, rebuilding Gaza and bringing about an improvement in its economic situation. These two things will reinforce its position against its rivals, including the Islamic State's supporters in the Strip.

As these two Hamas interests don't contradict the only Israeli interest, which is purely security-related, it would be possible to reach understandings which would lead to a long-term calm. Such an achievement must be based not only on deterrence, but also on intensive activity to economically rebuild the Gaza Strip - an activity which is not taking place, unfortunately. Moreover, and this should be said explicitly, the Israeli interest is a stable Hamas government, as any other alternative won't be as good for us.

In this state of affairs, the Israeli policy should be based on two moves: On the one hand, Israel should continue striking in Gaza in response to every rocket fired into Israel; on the other hand, Israel should cause international players, which are not Egypt, to initiate a move of negotiations on the second stage - the Strip's reconstruction. The European Union can be an appropriate player.

As part of these negotiations, Israel will accept not only the reconstruction of the houses destroyed in Gaza, but also the construction of energy, water and communication infrastructures, etc.

As long as there is no electricity in Gaza most hours of the day, as long as the sources of water are reduced and as long as the unemployment rate reaches more than 40 percent, the situation in Gaza won't be stabilized. The frustration is helping organizations which are more radical than Hamas to flourish, alongside the willingness to fire at Israel.

It should be stressed that at this stage Hamas is not launching rockets into Israel, but it's determination to prevent others from doing so appears to be weakening. At the moment, it is still possible to stop the escalation before it leads us to "Operation Protective Edge 2."

Two additional things should be noted: First of all, the meeting of interests between Israel and Hamas also relates to the construction of a seaport in Gaza. As far as the Hamas government is concerned, building a seaport would be the ultimate symbol of its success in lifting the "siege." Isn't that the exact Israeli interest as well? The existence of a port creates no security danger, as the level of security is not determined by the absence of a port but according to the maritime regime. We can definitely accept a maritime regime which will not put at us risk.

Secondly, our fear of every coordination with Hamas, as if it would be interpreted as negotiations with a terror organization, is exaggerated. Well, Hamas is both a terror organization and the ruler of the "state of Gaza" - and as such, coordination between neighbors, even if they are enemies, is both legitimate and desirable.

In conclusion, Israel's problem is not the erosion of deterrence, but the neglect of the second arm which should secure long-term calm and stability. Let's hope we're not too late.

Major-General (res.) Giora Eiland is a former head of Israel's National Security Council.