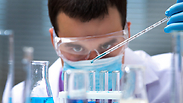 Israelis are responsible for many of the world's most important technological strides in the world of medicine, but could they actually cure cancer?

Well, a team of students at Ben-Gurion University in Be'er Sheva seems one step closer after winning first place this week at MIT's most prestigious competition, iGEM 2015, with a new method of fighting cancer based on genetic engineering.

The competition, which took place in Boston, hosted some 4,600 students from across the globe who presented findings and special projects in various fields including health, where the Israeli team took first place.

Doctors currently know how to kill cancerous cells, but many healthy cells are killed in the process, often causing immense pain and difficulties during treatment. The students developed a modular system that would allow a specialist to identify and target only cancerous cells during treatment.

"We arrived excited and motivated to represent Israel and Ben Gurion University and to take part in a competition with participating teams from the best universities in the world - and we did," said the students proudly. "Our vision is to continue to promote and solidify the state of Israel and Ben Gurion University on the map at the forefront of development and innovation in the field of synthetic biology."