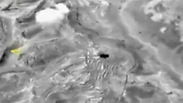 Russia has begun bombing the ISIS capital of Raqqa in Syria, which according to a statement issued by the Russian Defense Ministry resulted in, "An ISIS command post being incapacitated and infrastructure used for training terrorists completely destroyed."

The attacks were the first Russian strikes to be carried out against ISIS targets, after the initial Russian strikes in Syria targeted a bevy of other opposition groups.

Video: RT (צילום: RT)

According to the statement, "On October 1, Russian Su-34 planes struck 'an ISIS training camp' near the village of Maadan Jadid, 70 km (45 miles) east of Raqqa city, and 'a camouflaged command post' at Kasrat Faraj, southwest of Raqqa."

The strikes (Video: Reuters) (צילום : רויטרס)

The report continued to say that the Russian raids "destroyed a command post and communications center" held by ISIS in Daret Ezza in northern Aleppo province, as well as "bunkers and weapons depots in Maaret al-Numan and Habeet in northwest Idlib province."

The Syrian Observatory for Human Rights said the strikes had killed at least a dozen IS fighters near the Tabqa military airport on the western edges of Raqqa.

A report in Al Jazeera mentioned that Russian aircraft also struck ISIS targets in Al-Qaryatain which is on the outskirts of Homs province. The town had been seized by ISIS affiliated groups recently.

Turkey against Russia

In the meanwhile, Turkish Prime Minister Ahmet Davutoğlu blamed Russia for bombing moderate rebel targets in order to prop up the Assad regime. Davutoğlu reacted to the strikes, saying that "The outcome is very worrisome."

"This is clearly supporting the Syrian regime which is on the verge of collapse," he added. "I don't think it will be of benefit to destroy the moderate opposition," Davutoğlu added.

Davutoğlu said while Iran, Assad's other main international ally, was providing backing with military personnel on the ground, Russia was supporting the regime from the air. "And until now, it was namely Russia and Iran who were speaking out against the need for outside intervention in Syria," he said in a statement meant as a jibe to Russia over its involvment.

The Turkish prime minister said that Russia's military support for the Assad regime had been no secret, pointing to the Russian warships that had been seen sailing through the Bosphorus in Istanbul in recent weeks. "What they were carrying and where they were going, everyone knows," he said.

Arab media outlets have also reported that China is planning to increase its involvement in Syria. The reports mentioned that China would begin conducting air strikes in Syria within a number of days. The reports mentioned that China was joining the campaign in order to battle the hundreds of its citizens currently fighting alongside ISIS.