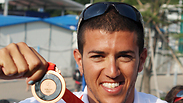 Shahar Tzuberi with his Olympic bronze medal (Photo: Reuven Schwartz)
Just one week before the Israeli national windsurfing team was set to travel to Oman for the world championships, the Culture and Sport Ministry decided against the trip on Tuesday.

An official notice said that the Shin-Bet is forbidding the team from going to the competition, which will be held between October 17 and October 24, for security reasons.

The Israeli team had problems getting visas to Oman ahead of the competition, but was eventually able to acquire the proper paperwork. The championships in Oman are the most important for internationally competitive windsurfers, and were expected to be crucial for determining Israel's representative to the Rio 2016 Olympics.

Nimrod Mashiah and Shahar Tzuberi, who won the bronze medal in the 2008 Beijing Olympics, are fighting for a single ticket.

Israeli Sailing Association Chairperson Gili Amir addressed the matter saying, "It's unthinkable that our top athletes, who will potentially represent Israel in the Olympic Games in Rio and are some of the world's best, will be absent from the world championships and won't participate in the most important competition of the year. The Israelis' non-participation severely harms the sport in my mind, and could set precedents."

He continued, "We made every effort so that the Israeli national team would go to the world Championships. We made sure to inform all parties in advance. We're very close to the moment of truth, and I hope that there will be an immediate discussion of the matter, and that a solution which allows the Israeli delegation to go to Oman will be found."