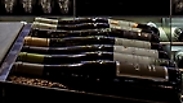 LONDON - Israel's bar scene received some impressive international kudos this week.

While the world has become increasingly aware of – and enamored by – Israel's thriving restaurant scene, the local bar scene has perhaps been overshadowed by this success, as well as by the popular nightclubs.

But this underexposure may change.

The Imperial Craft Cocktail Bar, on Tel Aviv's Hayarkon Street, was ranked the seventeenth best bar in the world in the 50 World's Best Bars competition that took place in London on Thursday.


The Imperial shot up to its top 20 position after reaching number 56 last year.

The bar also garnered the title of best bar in the Mideast and Africa for the second year running, beating out Zuma in Dubai.

The list is based on the opinions of more than 400 alcohol experts from around the world, who each chose five bars they had visited in the past five years.

Meanwhile, Israeli wine bar Tasting Room won the Middle East & Africa Bar category at the Restaurant & Bar Design Awards, in which 200 of the best restaurants in the world competed.

"We are very proud and excited by the placing," said Bar Shira, one of the owners of the Imperial Bar. "This is the first time that a bar from the Africa and Mideast category, not just from Israel, has placed in this desirable list. In our field we call it 'the Oscars of bars'. It's like being awarded a Michelin star."

The ranking is significant not only for the Imperial, but also for Tel Aviv's status as a popular tourist and nightlife destination. "We are not only a Tel Aviv bar," said Dror Altorovich, also an owner of the Imperial.