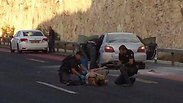 The scene of the bombing. (Photo: Shai District Police)
A Palestinian driver activated an explosive device at a checkpoint in the West Bank Sunday morning, lightly wounding a police officer who pulled her over.

The terrorist herself, a 31-year-old resident of East Jerusalem, was severely wounded, says Magen David Adom (MDA). Police said she carried a gas pipe in her car, and was on her way to Jerusalem to carry out a bombing.

Senior Staff Sgt. Maj. Moshe Chen, a traffic officer with the Judea and Samaria District Police pulled her up after noticing her driving suspiciously on route 437, which connects Ma'ale Adumim and a-Zaim checkpoint.

"I stepped over to her car, thankfully wearing a kevlar vest, and told her: 'Lady,you committed a traffic felony," Chen told Ynet from his hospital bed at Jerusalem's Shaare Zedek Medical Center.

"She didn't seem to know what was going on, so I started speaking to her in Arabic, at which point she started shouting 'Allah Akbar, Allah Akbar!' (God is great) and I noticed smoke coming out of the car," he said. "I thought her car was on fire, so I ran to get an extinguisher, and then I heard a blast."

"Then people started rushing to assist me," he continued. "I told them: 'Hold your fire! The terrorist is lying down, injured, she doesn't pose a risk anymore.'"

The Shin Bet stated that the explosive used was a gas canister, not a bomb. The security agency said handwritten letters were found on her person that praised Palestinian "martyrs." It said the woman is a resident of east Jerusalem but lives part of the time in the West Bank.

Route 1, connecting between the Adumim junction and a-Zaim checkpoint, was subsequently closed in both directions.

An MDA paramedic reported that the terrorist was conscious when she was evacuated to the hospital with burns all over her body.

Chief superintendent Rafi Cohen, the commander of Maale Adumim police, told Ynet that the policeman's alert prevented a deadly incident.

"We have no doubt that the terrorist intended to drive into Jerusalem," he said. "Had she arrived at a crowded place, the damage would have been much, much greater."

Also on Sunday, Palestinian gunmen opened fire at an Israeli maintenance team while they were mending the border fence opposite the al Bureij refugee camp in the central Gaza Strip.

No injuries were reported, but a few bullets damaged their car.

The team was called to the scene to fix a break in the fence caused by Palestinians who had tried to cross into Israel Saturday, but were stopped.

Sunday's attacks come after several days of violence that continued unabated over the weekend, spreading from the West Bank and East Jerusalem into Israel proper. Early Sunday morning, Israel Air Force planes attackd Hamas targets in the Gaza Strip after a rocket was intercepted above southwestern Israel. A woman and a child were reportedly killed.

The Associated Press contributed to this report.