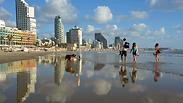 A cheap vacation in Tel Aviv?
Photo: Mario Troiani
While tourism in Jerusalem is plummeting due to the security situation, and the situation is no less promising in other parts of the country, Israel's Tourism Ministry has decided to launch a new campaign aimed at encouraging tourists to spend a low-cost vacation in Tel Aviv for under €69 (about $78) a day.

Sounds like a joke in the expensive White City? Well, in order to convey the message, several bloggers have arrived in Israel to try to convince the world that it is, indeed, possible.

Watch an interview with Berlin-based blogger Adam Groffman:

Video: Nitzan Dror, Yogev Atias, Barel Efraim (צילום: ניצן דרור יוגב אטיאס בראל אפרים)

In an interview to the Ynet studio, German blogger Adam Groffman of the "Travels of Adam" blog tried to explain exactly how one can get by in Tel Aviv without spending too much money. He said he lives in an apartment he rented on Airbnb for €30, and plans to spend most of his vacation at the beach and in museums and art galleries, some of which are free of charge. The main goal of the campaign is to show that the real Tel Aviv experience hardly costs any money.
'There is a demand for cheap vacations'
Uri Sharon, director of the Israel Government Tourist Office in Berlin, who initiated the bloggers' project, told Ynet that the demand for low-cost tourism in Tel Aviv was created by the growth in the number of independent tourists, mainly young ones.

"It's a segment which has extremely grown in Germany and in the world in general in recent years, including the demand for cheaper trips. The goal is to show that Israel has a lot to offer this market."

How does that even seem possible, especially in Tel Aviv?

Pricey City

The price difference between hotels belonging to the same chain in the two cities is so high that Israelis could spend a week-long vacation in the German capital – including a flight and a hotel room – and pay much less than for a Tel Aviv hotel alone.

"It starts with Open Skies agreement. The supply of flights has increased and the prices have dropped. If tourists book two or three months in advance, they can get a round-trip ticket to Israel for less than €200.

"Israel has always had the image of an expensive product. Still, when one looks for an 'active vacation,' even one which includes urban options, one can enjoy a cheap vacation, and more importantly, one can also enjoy things that don't cost money at all.

"Many experiences in Israel don't cost anything, and tourists don't know that. The sea, the human encounters, travel routes, bike tracks. That can all be done without spending large amounts of money. Even accommodation, if one goes through Airbnb or different hostels across the country, which are cheap even in Tel Aviv, as well camping for those who enjoy it."

Why did you turn to bloggers?

"The target audience for these vacations is younger, and the goal is for bloggers to shoot videos here which will show that it's possible at under €69 a day - and check for themselves if it's possible. We don't know what will come out of it, but we believe in the project and in the possibility of spending a cheap vacation even in Israel.

"The goal is to expose this variety to tourists. In Germany's case, for example, 40 percent are returning tourists who could get to know this side of Israel in general and of Tel Aviv in particular."