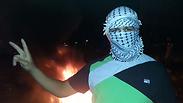 In Kafr Kanna on Saturday
Photo: Mohammed Shinawi
Clashes continued in Israel and the West Bank on Sunday, with violence erupting both between large groups and on an individual scale.

Four Israelis, including two soldiers, were wounded on Sunday evening when a resident of Umm al-Fahm ran some of them over and stabbed others. Earlier in the day, a Palestinian driver exploded a gas canister at a checkpoint in the West Bank Sunday morning, lightly wounding a police officer who pulled her over.

Overnight on Saturday, an Israeli air strike on a Hamas target in the Gaza Strip following a rocket attack. The strike brought down a nearby house, killing a Palestinian woman and her daughter according to Palestinian sources. The sources added that a 13-year-old Palestinian was killed on Sunday in the West Bank.
Clashes and protests
Simultaneously, clashes between Palestinian and security in the West Bank continued. Palestinians reported that 13-year-old Ahmed Saraja from Jalazone refugee camp near Ramallah was killed near the Beit El checkpoint.
Compilation of riots, protests, clashes between Palestinians and security forces (צילום: רויטרס)
Other communities in the Arab sector were holding violent protests. Perhaps the main focus was the village of Kafr Kanna, in the Lower Galilee, where dozens, some masked, gathered and burned tires. There was a heavy police presence.
Police were stopping all vehicles arriving at the entrance to the village asking the occupants if they were Jews. If the answer was yes, they ordered them to make a U-turn in order to avoid the scene of conflicts.
Other villages where rioting took place included Reinae, where dozens of tires are burning in the village square. In Tur'an dozens have gathered at the entrance to the village, some of them masked. In Majdal Krum and Daburiya, tires were burning.
Barrage of stones
"If I had not been protecting my head, I do not know where I would be today," Yedidya Zelinger said, recalling the barrage of stones he received on his way to Kiryat Arba on Sunday night. Zelinger and other people, including a tourist, were lightly wounded by stones thrown at them near the village of Beit Ummar.
Zelinger said he saw 20 young Arab men approaching him on Highway 60. "They threw huge blocks at the car at point-blank range," Zelinger said.
"I felt like I was in a shooting range," he said. "They were masked, with death in their eyes. I always thought that throwing rocks was something light, but when it actually happens it's crazy."