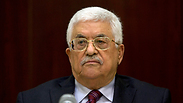 Mahmoud Abbas. Mixed messages? (Photo: AP)
Photo: AP
A delegation of senior Fatah members came to extend their condolences at the West Bank home of Mohaned Halabi, the killer of Aharon Bennett and Nehemia Lavi in Jerusalem last week.

Their act may seem as contravening Palestinian President Mahmoud Abbas' stated policy of preventing escalation and commitment to nonviolence.

Among the Fatah delegation members was Central Committee member Nabil Shaath, former chief negotiator and a self-proclaimed moderate. He was accompanied by Azzam al-Ahmed, Mahmoud al-Aloul, and Jamal Mohsin.

The bestowing of honors on terrorists by the Palestinian leadership comes days after leaflets honoring two recent terrorists were distributed featuring photos of Abbas and his predecessor, Yasser Arafat. The "martyrs" were promised "eternal life and glory," the leaflets read.

Azzam al-Ahmed was seemingly unfazed by the fact that Halabi was an activist of Islamic Jihad, a rival faction, and said during the meeting that the Palestinian people will continue to defend themselves from Israel's aggression. The visit received prominent mentions in the Palestinian media.

The Palestinian Bar Association decided to give Halabi, who was studying law, an honorary membership. The association also decided to dedicate its next swearing-in ceremony to him.

According to the Washington-based Middle East Media Research Institute (MEMRI), the PBA has gotten millions of euros in funding from the European Union, despite its vehement anti-Israeli stance, and had also expressed support for administrative detainee and Islamic Jihad member and high-profile hunger striker Mohammed Allaan, who had previously been convicted of recruiting a terrorist to perform an attack against Israelis.