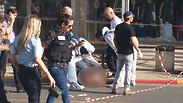 The scene of the attack
Photo: Ofir
Three people were murdered and dozens wounded in five terror attacks in Jerusalem, Ra'anana and Kiryat Ata on Tuesday. One of the victims was idenified as Rabbi Yeshayahu Krishevsky, 60, and another as Haviv Haim, 78.
Hamas praised the attacks, saying they are "a message to anyone who harms our holy places. We call to continue the intifada, which is the natural response to the world's silence."
In Kiryat Ata, a northern city near Haifa, a terrorist stabbed at least one person outside IKEA. The attacker has been subdued, while the victim's was moderately wounded. Both stabber and victim are Jewish, but it remains unclear whether the stabbing was a nationalistic incident or a criminal one. Police were investigating the suspicion that the attacker wanted to stab an Arab, but mistook the nationality of his victim.
Guard neutralizes J'lem stabber
Simultaneous attacks in Jerusalem
Three were murdered and 17 others wounded in two simultaneous morning attacks in Jerusalem's East Talpiot and Geula neighborhoods.
Video: Magen David Adom J'lem (צילום: דוברות מד"א)
Two terrorists - Baha Aliyan, 22, and Bilal Ranem, 23, both from Jabel Mukaber - boarded an Egged bus on Olei HaGardom Street in East Talpiot, a neighborhood also known as Armon HaNetziv, one armed with a gun and the other with a knife.
They started shooting and stabbing passengers while the bus kept moving, killing a man in his 60s and wounding 10 others. One of the wounded, a man in his 40s, was evacuated in critical condition and was declared dead at the hospital.
Two others were seriously wounded - women aged around 60 and 40, who suffered stab wounds to their upper body. Two others were in moderate condition: a woman of about 60 years old with gunshot wounds to her upper body and a man in his 30s. Three were lightly wounded, and two were suffering from shock.
Security Forces first response to the bus attack ( )
A security guard at the scene was able to overpower one of the terrorists and shoot him. The attacker then tried to get up and resume his attack, but the security guard shot him again.
The second terrorist locked the bus' doors in an attempt to stop security forces from boarding, as well as stopping passengers from fleeing. Policemen opened fire at him from outside the bus.
Aliyan was killed, while Ranem was wounded and neutralized.
Eye-witnesses said one of the terrorists took over the driver's seat in an attempt to kidnap the bus. Golan Cohen-Gabai, one of the eye-witnesses, said he used his car to block off the bus and stop the terrorist from taking it.
"Then he opened the doors and wanted to come at me with a knife. I closed the windows, so he ran back and returned with a gun.... I held him here for two minutes and then police forces arrived," he said.
Rubi Mahatbi, 18, was lightly wounded in the attack. "I took bus 78 to the city center. The two terrorists sat there and didn't look suspicion to me, but as soon as the bus started moving, the terrorist drew out a gun, yelled 'Allahu Akbar,' and shot a person as he came in my direction. I hid near the door and tried to escape. He drew a knife and started stabbing a military man. The second terrorist grabbed me and tried to attack me, but I hit him and was able to escape," he said.
"That moment, you feel fear and stress and you don't know what to do. I preferred running away rather than confronting him. I have bruises on my neck from his attempts to choke me. At that moment, all I was thinking about was I was either going to survive this or I die," he added.
An MDA paramedic who arrived at the scene of the attack described it as chaotic, saying gunfire was heard as rescue teams arrived.
Video: Goerge Ginsburg (צילום: גיל יוחנן)
On Malkhei Yisrael Street in Geula, a terrorist drove a car into a bus stop, hitting three pedestrians - one of whom, 60-year-old Rabbi Yeshayahu Krishevsky, was killed. The terrorist then left the vehicle and started repeatedly stabbing his victims.
Security footage of Malchei Yisrael attack
A security guard who was nearby arrived at the scene of the attack and shot the terrorist. The terrorist fell down, but got back up again, leading the security guard to fire at him again. The terrorist then lunged at the security guard, and was shot a third time. Border Police forces, who arrived at the scene, heared calls of "bomb!" and saw the terrorist moving, firing at him again. The terrorist was then taken to hospital in serious condition.
Magen David Adom said it provided treatment to eight people: One in moderate-to-serious condition with injuries to his upper body and limbs, one in moderate condition, one lightly wounded with bruises to his face, and five suffering from shock.
Moshe Shmueli was lightly wounded in the attack. "We can see what's happening in the country. It's an act from heaven that comes to awaken the people of Israel," he said.
"I wanted to take bus 59 and was waiting at the bus stop when all of a sudden a vehicle appeared and rammed into the bus stop with great force," Shmueli recounted. "I was sitting inside the bus stop while outside was an older man. It could've been a lot worse. I was near the terrorist who got out of the car - a giant man with hatred - and started hitting me and I immediately realized it wasn't an accident, but a terror attack. I left everything and ran. All of a sudden I heard gunfire and people telling me to run. I went into a house and the good people there treated me."
"We have to stop this entire situation," Shmueli added. "We can't put a policeman to protect each civilian, only the Torah can protect us."
The terrorist, identified as Alaa Abu Jamal, a resident of Jabel Mukaber in East Jerusalem who has Israeli citizenship, was an employee of Israeli phone company Bezeq, and used a company car to commit the attack.
A statement issued by Bezeq said: "We just learned that a Bezeq employee was responsible for the terror attack in Jerusalem this morning on Malkhei Yisrael Street. At this point we do not have all of the details, but it is clear this is a serious incident.
"Bezeq, and all of its employees, scorns this heinous crime. Our hearts are with the victims and their families."
Abu Jamal is related to the two terrorists who committed the terrorist attack at the Har Nof synagogue in November 2014 - cousins Ghassan and Uday Abu Jamal.
The wounded from both Jerusalem attacks were taken to Shaare Zedek Medical Center and to the Hadassah Medical Center in Jerusalem's Ein Karem.
Shaare Zedek received eight wounded: One of them was in critical condition and declared dead upon his arrival to the hospital; two were in serious condition, one of them already taken into operation; three were in moderate condition and two in light condition.
Hadassah Ein Karem received five wounded, two of whom were the terrorists. One of the terrorists was declared dead, while the other was in serious condition. The other three wounded were the Jewish victims - one was critically wounded, one seriously wounded, and one light-to-moderately wounded.
Two attacks on main Ra'anana street
Four people were wounded in a stabbing attack at a bus stop outside the Beit Loewenstein Rehabilitation Center on Jerusalem Street in Ra'anana.
After stabbing his victims the terrorist, an East Jerusalem resident in his late 20s, fled towards Ahuza Street, a major thoroughfare in the Sharon plains city. He was pursued by civilians. A driver passing by noticed the ongoing chase and hit the terrorist with his car. A taxi driver who was at the scene helped subdue the attacker.
Large police forces who arrived at the scene arrested the assailant, who was employed at the nearby Beit Loewenstein. He was taken to hospital in serious condition.
"We saw the terrorist stabbing a helpless older man who was standing at the bus stop. We immediately knew it was a terror attack," recounted two people working in one of the businesses in the commercial center, where the attack occurred.
"We immediately started calling out 'Terrorist! Terrorist!' He dropped his knife and started running towards the nearby Ahuza Street. We chased him and then he drew another knife, a smaller one, and kept trying to stab us," they continued.
"We called out to drivers to help us and then they hindered his escape, and we managed to catch him on Ahuza Street along with other people. He received quite a beating. Only after he was neutralized, he let go of the knife, and then the police came and arrested him," they said.
Other eye witnesses said the terrorist was wearing an orange vest.
At least one person was seriously wounded, suffering stab wounds to his upper body, including his neck, while the others were lightly-to-moderately hurt. The wounded were taken to the Meir Medical Center in Kfar Saba and the Rabin Medical Center in Petah Tikvah.

Earlier, one Israeli was lightly wounded in a stabbing attack in Ra'anana while waiting for the bus not far from the city hall on Ahuza Street.
The attacker, a resident of East Jerusalem, attempted to stab him. He fought off his assailant and was hurt in the struggle. Other civilians came to his aid and helped him overpower the terrorist, who was lightly wounded.
Maden David Adom paramedics evacuated the wounded Israeli, 32, to the Meir Medical Center in Kfar Saba with stab wounds to his upper body.
Ra'anana mayor Ze'ev Bielski, who spoke to the victim, Yair Ben Ezra, said Ben Ezra told him he suspected the stabber.
"He said, 'I saw there was something about him' - and that is why the stab wounds were likely not where the stabber wanted and he fought him and managed to come out in reasonable condition," Bielski told Ynet.
Scene of the attack in Ra'anana (צילום: ברק בן דרור, חטיבת דובר המשטרה, אלחנן קטיר)
Ben Ezra was also waiting for the bus. "I was standing at the bus stop for bus 437 to Tel Aviv, reading the paper about all of the terror attacks," he recounted.
"I saw a strange man who was sweating. He seemed suspicious and he was holding a knife. All of a sudden he started stabbing me again and again. I pushed him to the ground with my left hand. I was lying on the ground for a minute and a half. He yelled 'Allahu Akbar.' He had a murderous look in his eyes. He stabbed me in the neck, at the back of the head and in my hand. My entire body hurt. I knew there was a mother and children nearby and I had to save them and that he must not stab them."
Large police forces from the Sharon plains district arrived at the scene following the attack.
Following the attacks, Deputy Foreign Minister Tzipi Hotovely slammed Palestinian Authority President Mahmoud Abbas, holding him responsible for the attack.
"Mahmoud Abbas' spokesman Nabil Abu Rudeineh has praised and glorified a 13-year-old Palestinian who set out with a butcher's knife to murder Israeli children in a candy shop," she said.
"The blood of Israeli citizens is on the hands of Mahmoud Abbas and his colleagues who are inciting children to commit murder. The Palestinian Authority, instead of preventing violence, has become an incubator for fanatical terrorism which is striking daily at Israeli citizens."
Hotovely called on Israel's government to consider halting money transfers to the Palestinian Authority.
"The Foreign Ministry urges donor countries to use their influence to effect a cessation in violence and incitement by the Palestinian Authority," she added.
Overnight Monday, IDF and Judea and Samaria police forces arrested 15 wanted Palestinians in the West Bank, who are suspected of involvement in terror activity and violent rioting against civilians and security forces.
The arrested Palestinians, some of whom are suspected of stone-throwing, were taken into questioning.
Tuesday's attacks are the latest incident in a month-long wave of attacks, the worst spell of street violence for years, stirred in part by Muslim anger over increasing Jewish visits to the al-Aqsa mosque compound in Jerusalem.
Since Rosh HaShana last month, seven Israelis have been killed and dozens wounded in shooting and stoning attacks and a series of stabbings.
At least 26 Palestinians have been killed by Israeli fire, including 10 attackers and the rest in clashes between stone-throwers and Israeli troops. Hundreds of Palestinians have been wounded in such confrontations.
On Monday, Palestinians carried out three stabbings in Jerusalem, leaving a teenage Israeli boy in critical condition.
The daily knife attacks have stoked concern of a new Palestinian uprising and though Palestinian President Mahmoud Abbas and Prime Minister Benjamin Netanyahu have appealed for calm, the violence shows no signs of abating.
Palestinian groups declared a "Day of Rage" on Tuesday across the West Bank, Gaza and East Jerusalem. The leaders of Israel's Arab community have called for a commercial strike in their towns and villages.
Raanan Ben-Zur, Rotem Elizera, Attila Somfalvi, Yoav Zitun, Omri Efraim, Reuters and AP contributed to this report.