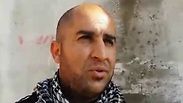 A man who on Tuesday launched a terror attack in Jerusalem gave an interview to Ynet about a year ago in which he praised a relative's terror attack on a synagogue.

Alaa Abu Jamal was driving in his Bezeq company car Tuesday morning when he rammed into pedestrians, got out of the car with a knife in hand, and began stabbing passersby. He managed to kill a 40-year-old man and left another 40-year-old man in serious condition before being shot.

In an interview to Ynet last November, Abu Jamal praised the murderous attack conducted by his cousin Oudayi Varsan at a Har Nof synagogue as "something normal which could be expected from anyone who is brave and has a feeling of belonging to his people and Islam.

"This act was carried out because of the pressure placed on the Palestinian people by the Israeli occupation government in Jerusalem, as well as the continued acts of aggression against al-Aqsa," he continued.

Interview with Abu Jamal, November 2014 (צילום: חסן שעלאן )

Following the axe attack that killed four worshipers and a policeman, Abu Jamal said: "People reacted with cries of joy when we received word of their death. People here handed out sweets to guests who came to visit us, and it was a great celebration for our martyrs."

According to Abu Jamal's family, he worked at Bezeq for several years. Following Tuesday's attack, the company issued a statement saying that there had been no warning signs and no observable change in his behavior that suggested violent intentions.

"The company is appalled by the terrorist acts in Jerusalem on Malchei Israel Street and by a company employee's involvement in these acts," read Bezeq's statement. "We are shocked by these abhorrent acts and are deeply dismayed by them. We feel the pain of the families of the injured and murdered and pray for their health and wellbeing."

One of Abu Jamal's family members said he had seen him recently, when security forces came to demolish a home in their neighborhood (the home of one of the terrorists from the Har Nof massacre). Not unlike other vehicular attacks, the family claimed that the incident was just a "car accident." According to a close family member, Jamal "was a well-respected man, married with three children."