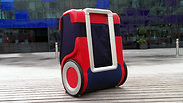 G-RO: The Jeep of suitcases (photo courtesy of G-RO)
How many times have you complained when your wheeled suitcase got stuck in gravel, on uneven pavements, in snow or on the stairs? Come to think of it, when was the last time you saw a suitcase that has a special cell with which you can charge your laptop as well as your phone?
Well, there's an Israeli invention for that.
The new "G-RO" wheeled suitcase was unveiled at a special Kickstarter event and launch party in Tel Aviv on Wednesday evening, showing off some unique new features that bring traveling into the 21st Century.
G-RO: A suitcase that's suited to almost any terrain
The suitcase was designed by Netta Shalgi, the owner and founder of Travel-Light. Shalgi is an industrial designer who several years ago designed "My Wooden Horse" with his brother, a special toy funded by another Kickstarter project.
"G-RO" has the standard dimensions of a piece of cabin luggage, which is strictly prescribed by many airlines. It has giant wheels that make it easy to pull over different kinds of terrain, such as gravel, cobblestones, uneven pavements, snow and more. The wheels' axis shifts the center of mass into the middle of the suitcase, which prevents it from toppling over.
Additionally, this center of mass prevents the weight of the suitcase from transferring to the extendable handle for pulling the suitcase, giving it the feeling of being very easy to transport.
The "G-RO" also has a double compartment system to maximize storage space and keep your packed clothes crease-free. This system also allows for easy access to other packed belongings. The rear compartment has a special slot for documents, while the front compartment has a section for liquids and for your computer.
An optional feature is a fitted battery that can charge a laptop or smartphone up to 10 times. Up to three appliances can be charged at the same time. Additionally, the suitcase can be customized – the wheels come in several different colors which can be swapped according to your mood.
'Almost any terrain'
"The four-wheeled suitcase was introduced by Samsung in the 1990s, but they aren't suited to anything but completely flat surfaces," explained designer Netta Shalgi when quizzed about the decision to return to two wheels.

"Our suitcase is suitable for almost any terrain we might encounter as we travel from place to place," he added.

Shalgi plans to raise $125,000 through the campaign, as a starting cost. The current plan is for the product to be available to purchase from August 2016.

And the cost? The first suitcases will be available for $199. The next 219 after that will retail at $219, followed by another 245 at $245. The "remainder" will sell at $279, which is the official retail price for the suitcase.