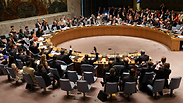 WASHINGTON - Deputy Ambassador to the UN, David Ruth, attended an emergency Security Council meeting Friday evening regarding the deteriorating security situation in Israel, saying that the Jewish State would not agree to the presence of international forces on Jerusalem's Temple Mount.

Israel's newly appointed ambassador Danny Danino was not present for the meeting as he will only officially begin his new duties on Wednesday, but said before the meeting, "Israel is committed to maintaining the status quo, and does not agree to the deployment of international forces to the Temple Mount, which will only violate the status quo that has prevailed for decades."

The emergency meeting came amid increasing violence between Israelis and Palestinians who have accused authorities of trying to take over the Temple Mount and prevent Muslims from praying there.

Meanwhile, US President Barack Obama addressed the spring in violence for the first time during a press conference with South Korean President Park Geun-hye at the White House.

Obama decried all violence and blamed both Prime Minister Benjamin Netanyahu and Palestinian President Mahmoud Abbas for recent incitement, calling on the two to tone down their rhetoric and demand peace.

But the US appears poised to take an even more active role in ending what many are calling the third intifada, or Palestinian uprising. A CNN report indicated that US Secretary of State John Kerry would meet with Netanyahu next week during his visit to Germany to meet with Chancellor Angela Merkel.

Kerry also called the prime minister Friday, reiterating American support for Israel defending itself while calling on Abbas to condemn attacks committed by Palestinians and avoid statements that could incite further conflict.

Reuters contributed to this report.