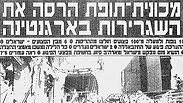 Yedioth Ahronoth headlins the day after. "A car-bomb destroyed the embassy in Argentina"
Argentina's Supreme Court issued international arrest warrants over the weekend for two Hezbollah operatives – Hussein Muhammad Ibrahim Suliman and Jose Selan al-Ridah – who are suspected of being involved in the 1992 bombing of the Israeli embassy in Buenos Aires.

The 1992 explosion killed 29 people, among them four Israeli diplomats and four local embassy employees. About 250 people were wounded, among them 10 Jews and Israelis.

The warrants were issued after Israel gave Argentina intelligence about the two suspects, leading to their official classification as terrorists.

Israeli sources estimate that the Argentinean resolve to collect intelligence and issue the arrest warrants was due to their will to project a decisive aura, after prosecutor Alberto Nisman was murdered before he could present his conclusions on the case to the court.

Israel's Foreign Ministry said the Argentine decision to issue the warrants was very important, even if it's doubtful the suspects will be caught.