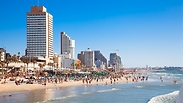 Tel Aviv hotels. A seven-day vacation in Israel for just $990-1,400
Photo: Shutterstock
As Israel experiences a further slowdown in incoming tourism following the recent wave of terror, the Tourism Ministry is launching a unique collaboration with the global Groupon company which it hopes will bring thousands of tourists to the country.

The deal, which is being marketed to some 30 million households in the United States starting Tuesday, offers a vacation in Israel for $990-1,400 - including flights, seven nights in a hotel, meals, tours and more.

Flight Suspension

In Hebrew press release, SAS, which currently runs four weekly flights between Tel Aviv and Copenhagen, cites increasing costs and competition as reasons for the cancellation, while citing political reasons in English release.

This is the first time the Tourism Ministry has cooperated with the e-commerce marketplace. The ministry's representative in the US will help market and advertise the campaign under the brand Groupon Getaways, in a bid to promote low-cost tourism to Israel.

Tourism Minister Yariv Levin said Monday that the goal of the unique campaign was to project a sense of business as usual and encourage tourism during the months when hotel occupancies in Israel are low.

"Some 1,500 Israel vacation packages will be offered for special prices, in accordance with the hotel's level. This is a first-rate marketing move which some 30 million US households will be exposed to. It will open an extensive marketing channel for us and expose us to audiences which are usually completely unfamiliar with Israel."

Minister Levin added that while the ministry usually halts all its campaigns during times of crisis, he decided to proceed as usual. "The continued marketing activity is aimed at preserving incoming tourism and creating a faster exit route once the security problem is behind us. So far, it has been proving itself. There have hardly been any cancellations so far, and despite the slowdown in reservations, we are not witnessing a terrible crisis or something people should change their habits for.

"When you shout, 'Crisis, crisis,' it only intensifies the external crisis and makes people hesitate whether to come to Israel. When they see that we keep marketing Israel as usual, it projects business as usual."

According to Levin, if the campaign is successful the ministry will consider expanding it.

The campaign will be offered for two weeks starting Tuesday and will include vacation packages with hotels in Jerusalem, Tel Aviv and the Sea of Galilee area. All packages will be marketed for the winter season, for the months of January and February 2016.