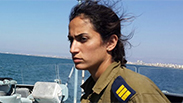 At 24 years old, Captain Or Cohen is the first woman to be appointed commander of a naval combat vessel. Cohen, who completed her naval officers course three years ago, was assigned to Dvora ship 817 a few days before Rosh Hashanah.
The new commander has already gone out on a few joint security tours along the northern border.
"Working with people and protecting the country combines two things I love to do," Cohen told Ynet.
כהן (צילום: ג'ורג' גינסברג ודובר צה"ל)
Born and raised in the Nitzanei Oz moshav in central Israel, Cohen's father is an agricultural worker while her mother is an accountant. One sister is an Iron Dome battery operator and two other sisters are still in school.
For Cohen, the thing she loves most about being at sea is "the feeling that there are no borders, that you have space, space for everything, space to think, space to be with the soldiers alone. Space to imagine, space to dream. To the horizon."