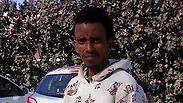 Four Israelis were arrested on Wednesday night on suspicion they were involved in the lynch of 29-year-old Eritrean national Habtom Zerhom believed to be a terrorist in an attack in Be'er Sheva earlier this week, while an autopsy showed Zerhom died of the bullet wounds he suffered when he was gunned down, and not from being beaten by Israelis.

Two of the suspects are employed with the Israel Prison Service. One of them, Roni Cohen, is an officer in the service. Both of the Prison Service employees were released on Thursday under restricted conditions after posting bail.

Cohen's brother was later quoted as saying, "My brother is a hero."

Autopsy results released on Wednesday showed that Zerhom, who was gunned down during Sunday's attack by a security guard who believed he was a terrorist, died from his gunshot wounds and not as a result of subsequently being beaten by the angry mob at the bus terminal.

Zerhom tried to flee during the attack and as a result was mistakenly identified as a terrorist. He was shot by a security officer and collapsed. Passersby then jumped on Zerhom and beat him, throwing a bench and chairs at him and calling out to kill him.

Zerhom was taken to Soroka Medican Center in Be'er Sheva in critical condition and died from his wounds a few hours later.

The autopsy found multiple fractures of his face and skull, but concluded that the six gunshot wounds he received had wounded him severely and ultimately caused his death.

During the terrorist attack on Sunday evening, a Bedouin from Hura – who was identified on Monday as Mouhand al-Okbi, 21 – shot Golani soldier Sergeant Omri Levy and snatched his M-16 rifle from him. Al-Okbi then opened fire and murdered Levy as well as wounding several others, some of them members of Israel's security forces.

Zerhom had gone to Be'er Sheva in order to renew his visa. On Tuesday, around 100 Eritrean asylum seekers gathered in the central bus terminal in tribute to their friend, putting up a picture and lighting dozens of candles in Zerhom's memory.

Several participants burst into tears while others tried to understand exactly how the event had happened.

The military police had joined the investigation into the incident in order to ascertain whether soldiers also took part in the beating.