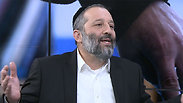 Economy Minister Aryeh Deri
Prime Minister Benjamin Netanyahu met with Economy Minister Aryeh Deri on Friday afternoon in order to discuss a move which may put an end to the conflict surrounding the approval of the prime minister's controversial natural gas plan.

At the height of the controversy, antitrust chief David Gilo was convinced that the two companies involved in the bid, Noble and Delek, had maintained positions which were un-competitive and would lead to higher prices. Gilo consequentially resigned from his post.

Friday's meeting took place after a continued refusal on Deri's part to sign off on a proposal circumventing Gilo's antitrust ruling. Deri has consistently refused to approve the measure until a new antitrust chief is in place and has given a second opinion.

The economy minister's office confirmed that he had offered his resignation from the office to the prime minister, in order to allow for the transfer of his signatory authority, thus paving the way for the deal's approval.

Deri offered Netanyahu his resignation ahead of the pm's trip to Berlin, primarily due to the failure of efforts to attain a necessary majority of votes needed to approve the deal in the Knesset.

The meeting between the two was aimed at finding a consolation for Deri's resignation from the ministry.

A source in the government confirmed that the two had met saying, "Deri is ready to resign, and now they are looking at alternatives. There are a few options at hand, but as of Friday night no decisions have been made." The source added that the talks would be "ongoing."

Some of the consolations that were brought up during the meeting included the possibilities of Deri receiving the position of: Interior minister – a position which he demanded during coalition negotiations, welfare minister, and or tourism minister. Interior Minister Silvan Shalom has said that he was unaware of Deri's offer.

Shalom said that he was not interested in leaving his post, following an inquiry by ynet on Thursday.

ynet approached Deri and made several inquiries regarding the possibility of his resignation this week, however the minister strongly denied the possibility. Deri approached Netanyahu with his offer to resign hours later.

The economy minister has been seemingly unhappy with his current post, in light of the ministry's strength within Israel.