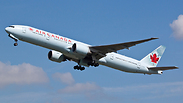 An Air Canada flight from Toronto to Tel Aviv got a shocking (and terrifying) surprise when it was struck by lightning on approach to Ben Gurion airport on Sunday morning.
As a result of the strike, the pilot made an 180 degree turn and landed in Cyprus. The plane was carrying 300 passengers and crew members. The passengers were all transferred to hotels, and are set to depart for Israel at 4:30 PM on Monday.
Guy Katzovich, a passenger aboard the flight told ynet, "We were approaching Tel Aviv when all of a sudden we started to bounce around, and many people were throwing up, because the plane was rocking from side to side. I saw lightning hit the plane's right wing, it felt like a nightmare.
"At a certain point the plane did an 180 degree turn, and we felt the plane start a climb, and the distance from Tel Aviv began growing on the navigation screen. After about five minutes, we saw that the destination had been changed to Paphos in Cyprus. It took a few minutes before they announced that the destination had been changed due to the weather," he said.
"It's my understanding that the company originally wanted to land and refuel in Paphos before taking off back towards Tel Aviv, but apparently they found external damage to the aircraft as a result of the strike. We are set to depart for Israel today on another plane, because the one we came in is grounded," Katzovich concluded.
Air Canada's office in Israel issued a response saying, "Lightning struck one of our aircraft yesterday, causing damage to the wing, consequentially grounding the plane. The incident happened in the middle of the storm, and the pilot decided that he could not land in those conditions with a damaged wing, and thus decided to land in Cyprus.
Our primary concern is for the safety of our passengers, and the safety of the flight. The plane landed in Cyprus and the passengers were put up in hotels. Air Canada has sent out an empty 'dreamliner' with technicians, and parts on board.
According to the company, "The plane is set to land in Paphos, drop of the parts, and continue on to Israel with the passengers around 4:15PM."