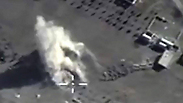 Satellite photo of an explosion after a Russian plane bombed an ISIS weapons depot in Syria.
Russia has been flying Iranian weapons shipments into Syria over the past 10 days, according to an exclusive report on Fox News, breaking with an international weapons embargo against Iran.
The planes were reportedly seen at the Russian airbase in Latakia, Syria's main port city.
The weapons deliveries, which are being brought in by Russian cargo planes, have been taking place twice a day according to the reports from Western intelligence sources that Fox based its report on.
According to the report, these weapons deliveries contravene two United Nations Security Council resolutions which placed an arms embargo on Iran. The flights are not registered.
The report adds that the head of Iran's Al-Quds force, Qassem Soulimeini, is coordinating Russia's delivery of Iranian weapons, along with Russian President Vladimir Putin and Defense Minister Sergei Shoigu.
Mahan Air, an Iranian civilian airline, is transporting military personnel from Tehran to Latakia several times a day.
President Putin and his counterpart President Bashar al-Assad recently met in Moscow to discuss the military campaign in Syria. It was Assad's first trip abroad since the civil war broke out in 2011.