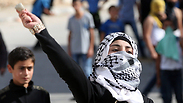 Anointed as martyrs for the cause, Palestinian teens are worth more dead than alive. But for what?
Photo: EPA
Once there was a difference between fact and fiction in politics, but the line between reality and its computer-generated "virtual" configuration in regard to the Middle East conflict is increasingly difficult to draw.

Examples abound. When the United Nations raised the Palestinian flag at its New York headquarters, it gave Palestine the symbol but not the power or land of a state. When parliaments in several European countries recognized Palestine, they may have improved their own countries' standing in the Middle East but could do nothing with such votes to fulfill Palestinian national ambitions. A state of Palestine that possesses images without sovereignty may exist on Google, but that does not make it real.

Wave of Terror

Analysis: The young male and female murderers flooding Israel's streets are not lunatics from the margins of the Palestinian society; they are part of an army of unemployed academics and hopeless high school students who could care less about the regional political problems.

For the past several weeks, young Palestinians - some teenagers - have unleashed a series of attacks by car, stones, guns, knives and meat cleavers against Israelis wherever they could find them - on street corners, in markets, on buses, at transportation centers. Very few have left explanations for their conduct, although their actions have been blessed by Palestinian leaders as emblems of a nationalist resistance against Israeli occupation.

That so many young Palestinians seek to kill is taken as evidence of a deep and pervasive despair that leaves no alternative for expressing rage but violence.

It is remarkably easy for Palestinians to believe what they want to believe, but today, they can find it remarkably easy to find validation for their views. That the occupation is said to have produced a fertile environment for violence is now a media cliché. Recent headlines - "Palestinians shot boarding kids bus" or "Man shot after rushing past police in Jerusalem" - bombard us with pictures of Palestinian society coming apart generating empathy for the perpetrators of violence and suggesting that Israel, because of its policies, has it coming.

Even with regard to the so-called threat posed to Muslim holy sites, there is no shortage of statements about the violation of long-standing agreements about conduct on an esplanade that many believe is God's dwelling place on earth. No wonder Palestinians prefer to embrace their charges against Israel than to try to probe their validity.

Well-placed video cameras might be able to record what is actually taking place, but for too many, Jerusalem's sanctity is useful only if it can trigger confrontations and represent the Middle East Conflict as having transcendent value.

There is, of course, a special incongruity to Jerusalem's status as the symbolic battleground for the Palestinian-Israeli conflict. For the Zionist founders of Israel, Jerusalem stood as the synecdoche for a Diaspora Jewry they sought to transform from a religious to a national culture and from a clerical to a democratic authority. For Muslims, Jerusalem's sanctity derives from the special status accorded it in Jewish history notwithstanding the current chorus of political and religious leaders denying the legitimacy of Jewish claims and thereby casting doubt on their own canonical sources.

Although Jews, Christians, and Muslims could easily create a unifying story of Jerusalem's sanctity, the forces advocating exclusive and narrowly defined possession have too often gained enough media attention to ratchet up the tensions into a sacred duty to attack. When contested holy sites are presented as irreconcilable tales of two incompatible religious claims, Muslims and Jews are doomed to perpetual conflict.

But can a nationalist movement bring liberation to a people when it identifies so fully with men and women who don't care when they die so long as they can kill? Anointed as martyrs for the cause, Palestinian teens are worth more dead than alive. But for whom and for what? Provoking chaos may undermine the Palestine Authority or its President, Mahmoud Abbas. It may satisfy the regional designs of Hamas' patrons and funders, but it provides no incentive for Israel to surrender land. The violence may create a new vocabulary; it may generate empathy; it may indeed be a cry of desperation but against what and against whom?

A nationalist movement is successful when it can project an image of solidarity uniting people who may be divided by class, religion, gender, and location into a community believing it shares a common story. But when calls for attacks in Jerusalem or across the West Bank are issued from Qatar's Four Season's Hotel or from underground bunkers in Gaza City, they conjure up images of the disparate rather than the similar worlds inhabited by Palestinians.

Energy even exuberance for violence may come from the ominous rhythms of rap recordings shouting "stab! stab!," but the navigation system has been set by Hamas leaders who promote attacks far away from their domain in order to duck any Israeli reckoning for the costs.

What happens to a people seeking freedom from foreign or colonial rule when it discovers that orders are still coming from the outside? A politics that demands such high human costs and generates so few benefits produces diminishing returns for the ordinary men and women repeatedly asked to sacrifice for the cause.

Increasing numbers of Palestinians will eventually understand, if they do not already know, that their priorities and needs are not reflected in the decisions taken by their leaders. We do not know where this current spate of murders will take the Palestinians. But we do know that it will not take them one day closer to the establishment of a real state.

Donna Robinson Divine is Morningstar Family Professor of Jewish Studies and Professor of Government, Emerita, Smith College.