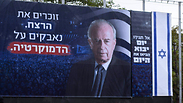 Preparations in Rabin Square. (Photo: EPA)
Organizers claimed 100,000 were in attendence at a rally and memorial ceremony Saturday night in Tel Aviv, marking the 20-year anniversary of the assassination of Israeli Prime Minister Yitzhak Rabin.
The memorial was held at Rabin Square – named after the slain prime minister in wake of his murder in 1995 – where former US president Bill Clinton gave a speech from behind bullet-proof glass, charging the Israeli people to carry on Rabin's legacy by finding a path to peace.
Clinton at Rabin rally.
"After all the fighting and battles he engaged in, he never stopped seeing other people, including his adversaries, as human beings," said Clinton. "All of you must decide... how to finish his legacy, for the last chapter must be written by the people he gave his life to save and to nourish."
The former president continued, "You have to decide that the risks for peace are not as severe as the risks of walking away from it."
Clinton also spoke about Rabin on a more personal note, saying, "The day he was killed was probably the worst day of my 8 years as president."
US President Barack Obama also addressed the crowd in a pre-recorded video, saying, "A bullet can take a man's life, but his spirit and his dream of peace will never die."
Barack Obama.
President Reuven Rivlin also addressed the crowd saying, "Two decades have gone by, and still we remain overly focused on the wounds of the past, and not enough on building the future.
"We should have no fear," continued Rivlin. "Israel's democracy is solid enough, and we are brave and strong enough to open wide Israel's gates, so that all the groups within us may play an equal part in shaping the character and future of the State of Israel."
The rally was organized under the slogan "Remembering the murder. Fighting for democracy." Its organizers said they wished for it to be a-political.