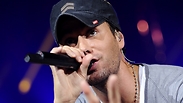 Enrique Iglesias in Tel Aviv in 2011
Photo: Dudu Azoulay
Good news for Enrique Iglesias' fans in Israel: After the Latin pop star's December 16 concert was sold out within 14 hours, the Bluestone Production company decided to add a second show on December 22 at the Menorah Mivtachim Arena in Tel Aviv, which was also sold out within hours.

Iglesias will arrive in Israel for the first concert from Sri Lanka, and will then travel to India before returning to the Holy Land for his second concert as part of the "Sex and Love" tour.

Ahead of his arrival, the singer recorded a message for his Israeli fans, saying: "I can't wait to see you in Tel Aviv for a very special show."

The show's producers said in a press conference: "We are not dealing with politics. We are dealing with one thing: helping people enjoy themselves. It's important to have an artist of this magnitude arrive in Israel at a time like this. We will continue to create ambassadors who love Israel and love the Israeli audience."

Holding Back the Years

More than 20 years after playing Tel Aviv and Jerusalem, English soul and pop group will perform at the Menorah Mivtachim Arena in Tel Aviv on June 14. 'I still remember fondly the amazing crowd we met there,' says lead singer Mick Hucknall.

Iglesias, 40, is the son of legendary Spanish singer Julio Iglesias, who has also performed in Israel many times. The younger Iglesias released his debut album, a collection of light rock ballads in Spanish, in 1995. In the second half of the 1990s, he gained popularity in the Latin music market.

Iglesias released his first English-language album, "Enrique," in 1999. He gained his biggest commercial success to date from his second English-language album, "Escape" (2001) - mostly thanks to its first single, "Hero," which became a huge hit around the world.

Two years later he released another successful album, "7," which included hit singles such as "Not in Love" and "Addicted."

Iglesias' love life has been widely covered by the press, including his relationship with tennis player Anna Kournikova.

This will be Iglesias' third performance in Israel. In 2006, he played a private gig at party organized by Russian-born business magnate Arcadi Gaydamak, and in June 2011 he performed at Tel Aviv's Nokia Arena.

Iglesias is being brought to Israel by the Bluestone company together with veteran producer Marcel Avram, who were responsible for the arrival of American rock band Bon Jovi in October.