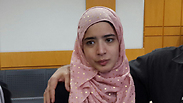 אסראא עאבד תושבת נצרת התחזתה ל מחבלת עפולה סכין נפצעה שוחררה ל מעצר בית
Photo: Hassan Shaalan
Asraa Abed, 30, was released to house arrest on Thursday, about a month after she was shot while holding a knife at Afula's central bus station. According to investigators and the district judge, Abed was merely posing as a terrorist because she wanted to end her life – what's known in some countries as "suicide by cop".

"The detention was difficult," said Asraa Abed. "They take away your freedom. I was alone in a room and couldn't see my parents or hug them. I was isolated from everyone. I still get pains and I take painkillers, but my condition is improving from day to day. Now that I've been released I feel good. I hope I get a fresh and positive start with my parents and with everyone I know."

Abed said she intends to continue her studies after being released.

"I want to send my warm regards to my Jewish friends and tell them I love them," she said. "I am continuing my studies. I had a childhood dream to invent an anti-cancer medicine and contribute to society. It's an opportunity to thank everyone who supported me. I say again that I never thought to hurt anyone. I am looking for a life of peace."

The moments weeks ago when Abed stood with a knife at the central bus station in Afula and was shot were caught on camera. Northern District prosecutors decided not to charge her with an attempted terror attack. The indictment against her is to be criminal, not security-related.

The Nazareth Magistrate Court on Wednesday ordered that Abed be released and placed under house arrest under strict conditions, after the judge ruled that Abed poses a danger mainly to herself. Her release was delayed until Thursday to give the government time to issue an appeal.

Shooting captured on video (צילום: שלמה מזרחי ועמית שטרית)

Relatives of Abed said after the decision was announced: "We knew from the first moment they wouldn't charge Asraa as a terrorist. She is not like that. "Everyone knows her and how intelligent and successful she is. She absolutely never thought about hurting others. The articles describing her as a terrorist were very unfortunate. We are certain that she will be released and come home with her head held high."

Abed has a 10-year-old daughter and is separated from her husband. Her friends said soon after the incident that she had previously studied for a university degree at a medical laboratory and was studying in a preparatory program with the goal of teaching biology.

"I know her very well, and she absolutely never thought she would hurt either Jews or Arabs," said a friend. "I am certain that she did not try to hurt a soldier like they say. She was shot in cold blood. We saw that she posed no danger to anyone."