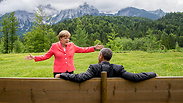 Merkel and Obama. The erman Chancellor took 2nd, pushing the American President to 3rd. (Photo: AP)
Forbes magazine has published its annual list of the world's most powerful people, and among them is Israeli Prime Minister Benjamin Netanyahu at number 21.
Russian President Vladimir Putin was ranked first for the third year in a row, with German Chancellor Angela Merkel edging US President Barack Obama out of the #2 spot, leaving him in third place. This is the first time a Forbes ranking has not placed an American President in one of the two top spots.
Pope Francis kept his 4th place in the ranking, with Chinese President Xi Jinping dropping down to 5th. Despite Israel's relatively small size in both population and territory, Netanyahu was ranked on the list, ahead of such people as Brazilian President Dilma Rousseff, Google co-founder Sergey Brin, and UN General Secretary Ban Ki-moon.
"Prime Minister Benjamin Netanyahu led the biggest military engagement of his three terms in office this year during a 50-day war against Hamas in Gaza that resulted in over 2,000 deaths, the majority of them Palestinian," the magazine wrote of Netanyahu, explaining his spot on the list. "Netanyahu faced sharp international criticism for the conflict before a cease-fire was established at the end of August.
"He barked back before the UN this September: 'Many of the countries represented here... evidently don't understand that ISIS and Hamas are branches of the same poisonous tree.' His tiny Middle East country of 8 million is dubbed 'startup nation,' and boasts the highest number of startups per capita in the world."
Forbes considers several factors in ranking an individual's "power." This includes wealth both personal, and for world leaders, the GDP of their nations, and current political trends.