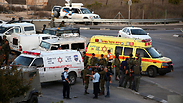 Photo: Archive/EPA
Photo: EPA
Four Israelis were wounded in three separate West Bank terror attacks on Friday, while another attack was averted when the perpetrator was shot dead.
An Israeli was stabbed near Sha'ar Binyamin, two were shot near Hebron's Cave of the Patriarchs, another was shot near Hebron, and a Palestinian 72-year-old widow was shot dead when she tried to run soldiers over with a car.
In the day's third attack – fourth counting the one that failed – an Israeli was shot and seriously wounded at Beit Einun junction north of Hebron on Friday evening. Palestinian sources reported that IDF forces were conducting widespread searches in Beit Einun as well as confiscating security camera footage from stores.
Two Israelis were shot and wounded by gunfire near Hebron's Cave of the Patriarchs less than two hours earlier. The victims included a 16-year-old who was moderately wounded. IDF troops entered Palestinian neighborhoods surrounding the city's Jewish enclave in search of the cell that committed the shooting.
The two teenagers, aged 16 and 18, were at the Cave of the Patriarchs compound on their way to Shabbat prayers at the tomb. They were there because the weekend was part of the special ten days a year in which the entire site is open to Jewish worshipers and only to them. (The site is normally divided into sections for Muslim and Jewish worshipers, and is also open only to Muslim worshipers on ten other days.) At least 4,000 Jews arrived on Friday, more than four times the number of Jews who live in Hebron's Jewish enclave.
According to a preliminarily report, the incident involved sniper fire from a Palestinian neighborhood overlooking the holy site.
A 40-year-old Israeli was stabbed and seriously wounded earlier in the day, with the attacker fleeing and sending police on the chase. Half an hour earlier, an elderly widow attempted to run soldiers over with a car. Israel said the woman's husband had been declared a terrorist and killed by IDF fire in the first intifada.
The stabbing attack – the first attack of the day – occurred in the West Bank's Sha'ar Binyamin Industrial Zone near Ramallah.
The suspected attacker in Sha'ar Binyamin fled the scene and security forces began searching for the individual in the area.
Hours later, a Palestinian uploaded a video to Facebook in which he read out a prepared statement. He proclaimed his full name, Baraa Issa, and ID number and declared responsibility for the attack. The youth claimed he was a member of the al-Aqsa Martyrs' Brigades. A PLO flag served as the backdrop to the youth's statement. Issa claimed he committed the attack in order to protect al-Aqsa Mosque and for the Palestinian people.
Facebook video in which youth claims responsibility for knife attack ( )
Only half an hour earlier, a Palestinian woman was shot and killed by security forces after attempting to run over IDF soldiers while driving in her vehicle in Halhul, a town in the Gush Etzion Region of the West Bank.
The perpetrator was 72-year-old Tharwat al-Sha'arawi, a resident of the Hebron area. According to Israel, her husband was a terrorist who died during the first intifada.
Al-Sha'arawi's son rejected the Israeli account of the incident, saying his mother was not a terrorist. However, investigators said Al-Sha'arawi had to tried to run a soldier over. They also said a commando knife was found inside the car.
It was later revealed that al-Sha'arawi's daughter is the wife of a senior member of Hamas in the West Bank. She received a condolence call on Friday evening from Hamas leader Ismail Haniyeh.
Hamas published statements praising the two attacks that followed "Tharwat al-Sha'arawi's execution' and called them heroic actions, urging Palestinians to commit more.
The attacker was evacuated for medical treatment at a hospital near Jerusalem, but was proclaimed deceased upon arrival and no injuries were reported among the Israeli troops.
Al-Sha'arawi's son claimed that his mother was on her way to her sister's home for lunch when she entered to refuel her car at a gas station. He alleged that soldiers shot her despite seeing she was an older woman.
Elior Levy contributed to this report.