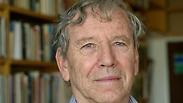 Amos Oz. (Photo courtesy of Keter Publishing House)
Courtesy of Keter Publishing House
A few months ago, Israel Prize recipient and renowned Israeli author Amos Oz told Foreign Ministry representatives that he would no longer participate in official events held under the auspices of their department or the Israeli government.

"I do not at this time feel comfortable participating in 'government promotion' events," Oz was quoted as saying.

The issue had remained under wraps until now, his associates say, due to the author's sense of responsibility to his country.

Man of Words

Op-ed: After sparking a row with his verbal attack on 'price tag' vandals, author Amos Oz explains why he stands behind his comments.

"Amos Oz is a responsible individual," one said. "One may assume he understands that a declaration such as this could be interpreted as justification of the Palestinian boycott movement (BDS). If a major Israeli author does not want to appear at events that involve the Israeli government, what does that say?"

Responding to the revelation, Amos Oz told Ynet: "When translations of my books come out overseas, the publishers sometimes invite me to participate in the launch.

"Following the radicalization of the current government's policies in different areas I informed my hosts that I would prefer not to be invited to events in my honor at Israeli embassies abroad."

When asked whether he thought his non-participation in Foreign Ministry events abroad might strengthen the BDS movement – in particular cultural boycotts – Oz replied that he does not support BDS.

Amos Oz is one of Israel's leading authors who is also known for his left-wing political views and his fierce remarks against Prime Minister Benjamin Netanyahu and the right-wing government.

Oz has frequently addressed the political dynamics of the country. During a speech he gave at a recent Institute for National Security Studies convention, Oz warned: "The continuing conflict with the Arabs has turned into our war with the whole world. We are on the verge of becoming an ostracized state."

Oz also addressed the Israeli-Palestinian conflict during his acceptance speech for the 2013 Kafka Prize, saying: "I very much believe in a historical compromise between Israel and Palestine – a two-state solution."

A few months ago, Oz also commented: "The Netanyahu government…is leading the people of Israel into a war against the whole world. From a historical perspective we are already at war with the world and it will not end well.

"You don't need to be a prophet to see that the day is coming when employees at European airports will refuse to deal with El Al flights and when people will refuse to buy Israeli produce. It's already happening today."

Responding to Oz's latest stance, the Foreign Ministry said: "Out of the respect we have for Amos Oz, we are choosing not to address his statements."