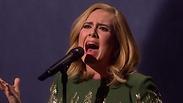 Adele singing 'Hello' live on BBC
If you are a living organism on this planet, the chances are that you've already heard "Hello," the new single from Adele that came out two weeks ago and has already managed to break records for downloads and airtime.

Adele sings 'Hello' live for the first time ( )

Now you can see the song (or at least part of it) performed live, in a teaser clip released by the BBC ahead of a special program celebratory program that will be broadcast on November 20, the day Adele's new album "25" is to be released.

This is the first time that Adele is performing the track live as well as the first time in three years that she has sung in front of an audience. You can watch the clip below.