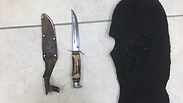 Knife and ski mask found in the home of a suspect in the attack on Rabbi Arik Ascherman.
The Petah Tikva District Court extended by four days on Sunday the detention of the Jewish minor suspected of attacking Rabbi Arik Ascherman, the head of left-wing NGO Rabbis for Human Rights after police found weapons in his possession.

The suspect was arrested at his home on Saturday night during a joint operation between Israel Police's Judea and Samaria Division and the Shin Bet. In the minor's possession were found various weapons including a shock grenade, a gun magazine with ammunition inside, a slingshot, a knife and a ski mask.

A masked settler attacking Rabbi Arik Ascherman near Itamar settlement, October 23, 2015.

The suspect was wearing the ski mask and used the knife during his attack on Rabbi Ascherman.

The attack took place just over two weeks ago, while Ascherman and other activists from Rabbis for Human Rights were helping Palestinians with their olive harvest close to the settlement of Itamar.

While Ascherman was in an olive grove, a masked individual approached and then attacked him. The suspect admitted his involvement during his interrogation and recounted the event to the National Crimes Unit of the Judea and Samaria Police Division.

The suspect's lawyer, Itamar Ben Gvir, responded that the youth's confession is inadmissible because the investigators did not allow him to consult with a lawyer. Ben Gvir added that the police must also interrogate Ascherman, who he claims provokes settlers.

"Dealing with law-breakers, during a period in which Israel is fighting a wave of terror, is diverting the police from one of their central tasks," the local police division said in a statement.

"Nonetheless, we work to a zero tolerance policy and will take a firm stand against all those who take the law into their own hands."