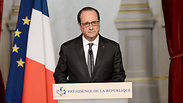 ISIS has officially claimed responsibility for a devastating series of attacks in Paris on Friday night, which claimed the lives of at least 127 people.

Concurrently French President Francois Hollande gave a speech on Saturday in which he said that the Islamic State group orchestrated the worst attacks in France since World War II and vowed to strike back.

Hollande, who declared three days of national mourning, added that, "We will protect our citizens in this current state of emergency. I wish to praise the security forces who fought the terrorists."

According to the ISIS message, the attacks included eight suicide bombers who donned explosive vests, and used automatic rifles in their attacks against carefully selected targets in the French capital. Concurrently, London's Gatwick airport was evacuated as a "precaution" after a bomb threat.

The ISIS letter continued to say that, "France should know, and anyone who follows her path, that she will continue to be at the head of the Islamic State target list. Death will not pass by them as long as they continue to lead the crusader attacks. They dared insult our prophet and gloated about their war against Islam in France, and attacked the Muslims on the land of the caliphate with their plans," The message said.

"This invasion was the first of many and a warning to those who don't want to learn their lesson," the message concluded.