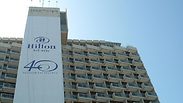 The Hilton Tel Aviv Hotel
While different organizations in the United Kingdom are calling for a boycott of Israeli products and institutions, the British Institute of Travel and Tourism (ITT) has decided to hold its annual conference in Israel of all places.

The three-day ITT Conference 2016 will take place in early June at the Hilton Tel Aviv Hotel. During this visit to Israel, the guests will tour different tourist sites such as the Dead Sea, Ein Gedi and Jerusalem.

Promoting Israel

Israel sends its representatives to World Travel Market, one of the largest tourism fairs in the world, to try to convince tourists to visit the Holy Land.

The organization informed its members of the event in a special bulletin, noting that "El Al Israel Airlines is kindly offering preferential rates for ITT delegates, with economy fares available from £295 return including all taxes. Business class flights can be booked from £750 return including all taxes."

ITT is a British institute dedicated to promoting and training professionals in the travel industry and its members include individuals involved in travel and tourism – whether employed by a travel agency, airline, tour operator, hotel, tourist office, car hire company or any other travel related business such as PR, law and marketing.

Tourism Ministry Director-General Amir Halevi said ITT's decision to hold its conference in Israel was a significant show of faith in the Israeli tourism industry.

"I see it as a very important opportunity to leverage the tourist potential of the British market, and I am happy that they chose Israel," he added.