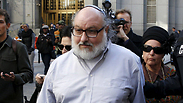 Pollard. A stain which had to be concealed
Photo: Reuters
I was wrong. Every time I wrote about Jonathan Pollard, I was wrong. I thought the American administration could be pressured. I was convinced that the presidents in Washington had a merciful heart beating in them.

There was a period when I was under the impression that the heads of the American intelligence community had given up the ridiculous claims that Pollard could still cause damage after three decades in prison, and that he could be released before the date set in the trial. But in practice, the Americans did what they said: Not one day less, not one minute more.

Israeli Spy

Op-ed: Eitan Haber, who served as Defense Minister Yitzhak Rabin's media advisor at the time of the Israeli spy's arrest, reveals a few unknown details about the affair which seriously damaged US-Israel relations.

These were not false imaginations. I was once present in a terrorist release debate, and Pollard's name was tossed in the air. His name was also mentioned when Israel was pressured to apologize to Turkey. And there were gestures, agreements, demands and dozens of exchanges of words in which it seemed that Pollard was just a matter of cost. Former US President Bill Clinton almost agreed, George W. Bush perhaps didn't get to it, and Barack Obama needed some pressure.

Every time I wrote about Pollard, my colleague Eitan Haber would prove me wrong. "He won't get out a minute before the time of the release, and all the things that you write and are translated to the Americans are only causing damage," he said repeatedly.

Now that he is out, I can admit to my failure. Actually, it was the failure of all those who wrote and pressured, the politicians who spoke at the Knesset, signed petitions, started a lobby, and all the prime ministers.

The question why Pollard was arrested is not important. Pollard wasn't innocent. He apparently tried to hand over material to other countries and did something that must not be done in his country. He was largely a walking mishap, but the moment he transferred material to the Israel, he was our mishap.

We closed the embassy doors in his face, although he was one of our own. We avoided mentioning him during the first years, although he had worked for us. We tried to get everyone to forget this unflattering episode, although it was written for our intelligence.

There were two reasons for this disregard. The first was the Jews of the United States, and the second was the Jews of Israel. The screw-up behind Pollard's operation put America's Jews in a defensive position: Pollard was a stain which landed on white pants, and all that was left was to conceal and wash it off.

The Jews who know how to fight for their political stances against the administration, the billionaires who openly intervene in what happens in the parties, Israel supporters who organize protests and petitions - they were all dumbstruck. Pollard, like Lord Voldemort from the Harry Potter series, was the man who must not be named.

This fear was also felt by Israel's Jews. It took a long time before the government allowed itself to quietly discuss Pollard. Years passed before a prime minister uttered his name, and at least two decades went by before the media expressed an interest - and even that seldom happened.

Israel had many arguments for requesting leniency: Starting from the humanitarian issue and the gestures the American administration demanded over the past seven years (mainly the release of terrorists who were sentenced for long prison terms), through the question of proportionality of punishing a spy from a friendly country, and finally - the simple truth about spying between friendly countries. But apart from the asking for mercy for a sick person rotting in prison, all the other arguments were not said out loud. They were under the table.

I was wrong: Pollard was not released prematurely. But unlike Eitan Haber, I believe it wasn't because of the things that were written and because of the petitions, but because of the Jews' fear. Yes, Pollard was a stain and a bad choice made by Israeli intelligence officials. Yes, he was a strategic mishap, a mishap which we failed to do everything we could to solve from the very first moment until last Friday.