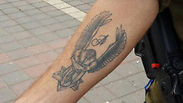 Ziyad, a Bedouin IDF soldier, displays his tattoo.
The Arab-Muslim IDF soldier with a 'long live Israel' tattoo
When Samal Ziyad came home for a holiday in his village in northern Israel, he wasn't ashamed of his IDF uniform, nor of the tattoo on his arm that reads: 'Long live the State of Israel' tattoo. 'Since I was little my father has encouraged me to serve,' Ziyad says. His commander calls him a 'remarkable soldier and a fantastic fighter.'
Samal Ziyad (not his real name), an Arab-Muslim who serves in the IDF's Bedouin Trackers Unit, could easily compete for the title of the most Zionist soldier serving in the West Bank today.
One of only a few dozen Arab Muslims serving in the army, he chose to volunteer for military duty, drawing fierce opposition from Arab society and the risk of personal attacks.
Such is Ziyad's exceptional story. He is now an infantry fighter serving at the height of the current wave of terror. He has two tattoos: one featuring various Zionist symbols, including a Magen David, and the second – which he finished recently – featuring the words: "Long live the State of Israel."
Ziyad is not afraid to be identified, even though he has already had to deal with condemnation from Muslims opposed to his enlisting in the army.
"Since I was little my father has encouraged me to serve in the army and he taught me that Israel is our country too," Ziyad tells Ynet. "There were always Israeli flags at home hanging so they face outside and pictures of Israeli leaders were always up on the walls."
In special cases the IDF permits Muslim and ultra-Orthodox soldiers to come and go from their homes in civilian clothing, so that they won't be identified as soldiers and risk being attacked.
Ziyad, however, has not even considered that option. When he goes home to his village in northern Israel he proudly walks around in his IDF uniform and carrying his Tavor rifle.
"I'm not afraid," he says, "even though I've already received negative responses. I just reply to everyone that Israel is my country. I won't take down my Israeli flags or cover my tattoos.
"I've had tough comments on Facebook but I just ignore them or delete them. Soon I'm going to get a third Zionist tattoo on my back."
Ziyad has already asked his commander to put him forward for an officers' course, so that he can progress in the army.
"He is a remarkable soldier and a fantastic fighter, even though he comes from a village where almost no one serves," says Shai Sharaf, the deputy commander of Ziyad's brigade. Sharaf also notes that in spite of the challenges in Ziyad's personal situation – he is married with children – he is continuing in full combat service.
Ziyad and his colleagues have made significant operational accomplishments over the last few weeks in the Jenin area, for which their brigade is responsible. They have also thwarted dozens of terror attacks and succeeded in identifying terrorists armed with knives and explosive devices who turned up at Gilboa Junction intending to carry out an attack.