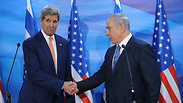 After the meeting between US Secretary of State John Kerry and Prime Minister Benjamin Netanyahu on Tuesday morning, an Israeli diplomatic source said that the prime minister let Kerry know that there is no and will be no building freeze in the settlements. According to the source, the prime minister emphasized that if the international community expected building permits for Palestinians – than Israel expected recognition for building in the settlement blocs.

Netanyahu told Kerry that his first condition for the return to normal economic and security conditions was the end to the violence, and return of the quiet. The source added that Netanyahu had let Kerry know, the any of advancement of Palestinian civil infrastructure programs would be directly correlated to a decrease in the violence.

The diplomatic source also added that Netanyahu blamed the recent violence on Religious incitement on Palestinian social media, mainly surrounding the issue of the Temple Mount, and blamed the PA for taking an active role in the incitement.

The Prime Minister's Office said on the topic that Netanyahu and Kerry discussed a variety of regional security matters including the conflict in Syria and ISIS. The statement continued to say that the two discussed a series of possible steps that would help put an end to the current terror wave. The two also discussed possible ways to strengthen security ties between the countries in light of the unstable security situation in the region, the statement concluded.

During a press conference in Jerusalem this morning, Kerry had said that, "No people anywhere should live with daily violence, with attacks in the streets, with knives or scissors or cars."

"It is very clear to us that the terrorism – these acts of terrorism which have been taking place – have deserved the condemnation that they are receiving. And today, I expressed my complete condemnation for any act of terror that takes innocent lives and disrupts the day-to-day life of a nation. Israel has every right in the world to defend itself and it has an obligation to defend itself, and it will and it is," Kerry said.

Netanyahu added that, "There can be no peace when we have an onslaught of terror – not here, not anywhere else in the world, which is experiencing this same assault by militant Islamists and the forces of terror. Israel is fighting these forces every hour. We're fighting them directly against the terrorists themselves."