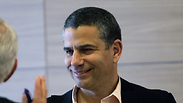 Yinon Magal
Photo: Alex Kolomoisky
Police announced on Tuesday that it will investigate sexual harassment claims made against MK Yinon Magal, while party leader Naftali Bennett stripped Magal of his title as the head of the Bayit Yehudi Knesset faction.

Two former colleagues accused Magal on Tuesday of harassing them while he was serving as the editor of Israeli news site Walla.

Following the accusations, which caused uproar, Bennett summoned Magal to a meeting, where the Bayit Yehudi leader rebuked the MK and it was agreed that he will no longer serve as the head of the faction. Magal will be replaced by MK Shuli Mualem.

In a statement released by Magal after his late-night meeting with Bennett, he said he will no longer head the Bayit Yehudi faction, but will continue to serve as a member of Knesset.

"I've erred in the past by behaving in an inappropriate manner that does not befit the public figure I am today," Magal said in his statement.

"I apologize, from the bottom of my heart, to those who were hurt," he added. "I am determined to rectify my conduct and fix these issues on the personal and family levels as well. I hope the public finds it in its heart to allow me to fix my ways and serve it loyally."

According to sources close to Bennett, the education minister told Magal: "Your behavior is not in line with my values."

The sources said Magal expressed remorse for his actions and promised to improve his behavior.

They mentioned, however, that the two did not discuss the option of Magal resigning from the Knesset, but senior Bayit Yehudi officials said Wednesday morning that "if things get worse, Bennett will have to reconsider everything. This option (of Magal resigning) is on the table, if things get worse."

Bennett, meanwhile, defended Magal, saying on Wednesday that the MK should not be judged by social media. "I mean to let the authorities do their job, and we will act accordingly," he said at a conference in Sderot.

Bennett also claimed that "Magal is certain of his innocence," despite the fact Magal had apologized for his action in two separate statements.

The Bayit Yehudi leader did condemn the comments and actions attributed to Magal. "Yinon Magal is a true friend of mine, and I love him, but the kind of things he said should not be said in any way, especially not by a representative of the public," he said.

Police will begin an unofficial investigation into the allegations by checking whether the complainants are interested in filing an official complaint against Magal, and whether there are other complainants.

If the complainants are willing to file an official complaint, Attorney General Yehuda Weinstein is expected to instruct the police to launch an official investigation.

In a post published on Tuesday, journalist Racheli Rottner of Walla described an event that occurred during Magal's goodbye party from Walla. According to Rottner, Magal told her at the party that he was aroused by her during their time working together, specifically mentioning that he thought about her breasts and buttocks and talked about them with others.

A short time after that, Or Shukrun. Another former Walla employee, published a post in which she claimed MK Magal harassed her. Shukrun claimed that Magal touched her buttocks several times, ignoring her requests that he stop, and that he asked her several harassing questions, such as whether she would like to join him in the bathroom stall.

Magal published an apology in light of the accusations, saying, "First of all I'd like to apologize – there are things that were said between friends before I became an MK and I wouldn't repeat them today, I ask for the forgiveness of anyone who was hurt. Having said that, I'd expect a friend who was hurt to tell me so and not turn to social media shaming."

Attila Somfalvi, Matan Tzuri, Amihai Attali and Adva Cohen contributed to this report.