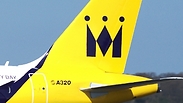 Monarch Airlines plane
Photo: Monarch.co.uk
British airline Monarch will inaugurate its London-Tel Aviv route next weekend, after a 10-year absence from the Israeli market. The company will offer three weekly flights between the British capital and the Israeli metropolis, as well as flights to the southern resort city of Eilat.

According to the company, the cheapest tickets will cost about £50 ($75) from Tel Aviv to London, and about £90 ($136) from London to Tel Aviv, but these fares will not be offered in the first month. The price difference between the two directions stems from huge gaps in port taxes collected in England's airports. Ticket prices do not include the baggage fee.

Defying Boycott Calls

Hilton Tel Aviv chosen as venue for 3-day conference of the Institute of Travel and Tourism despite calls in UK to boycott Israel.

The flights will be operated on Airbus A321 planes with 214 seats. In the first stage, the company will operate regular flights from Tel Aviv to London on Sundays, Mondays and Thursdays. The flights will leave Tel Aviv at 5:20pm and depart from London at 9:10am. The flights to Eilat will be offered once a week on Thursday. The flight from Eilat to London will leave at 6:05pm, and the flight from London to Eilat will leave at 9:45am.

Monarch, which was founded in 1968, operated flights to Israel about a decade ago, but the route was terminated. The Tourism Ministry recently encouraged the airline to look into relaunching its route to Israel and even approved a £45 grant for each tourist who will land in Eilat this winter, in order to encourage tourism from Europe to the Israeli resort city. The ministry is also helping the company market the route to Israel.

Based at England's Luton Airport, Monarch has four other bases in the country and a fleet of 34 planes. It flies to some 40 destinations.

According to Tourism Minister Yariv Levin, the British company's decision to relaunch the route is a show of faith in Israel and will offer tourists more convenient ways to fly to Israel. He added that the Open Skies agreement signed in 2013 paved the way for the cooperation with Monarch.