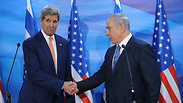 John Kerry and Benjamin Netanyahu, 24 November, 2015.
US Secretary of State John Kerry warned Wednesday that the conflict between Israel and the Palestinians is at a "pivotal point" and could worsen beyond repair unless both sides make rapid compromises.

"As you know, we're very concerned about the violence and the potential for the situation to spin out of control," Kerry told reporters as he arrived home in Boston after visiting leaders from both sides in Jerusalem.

"Over these past months we have been encouraging the parties to take affirmative steps to reduce tensions and demonstrate a genuine commitment to a two state solution.

"I think we may be reaching a pivotal point now where both sides have important decisions to make for the future and we obviously hope that they make choices that will advance the prospects for lasting peace."

Kerry met with both Israel's Prime Minister Benjamin Netanyahu and Palestinian president Mahmud Abbas on Tuesday in Jerusalem and Ramallah to urge both to take steps to calm tensions after a spate of unrest.

But he left without a concrete breakthrough and said he would continue to press both leaders on the issue in coming weeks.